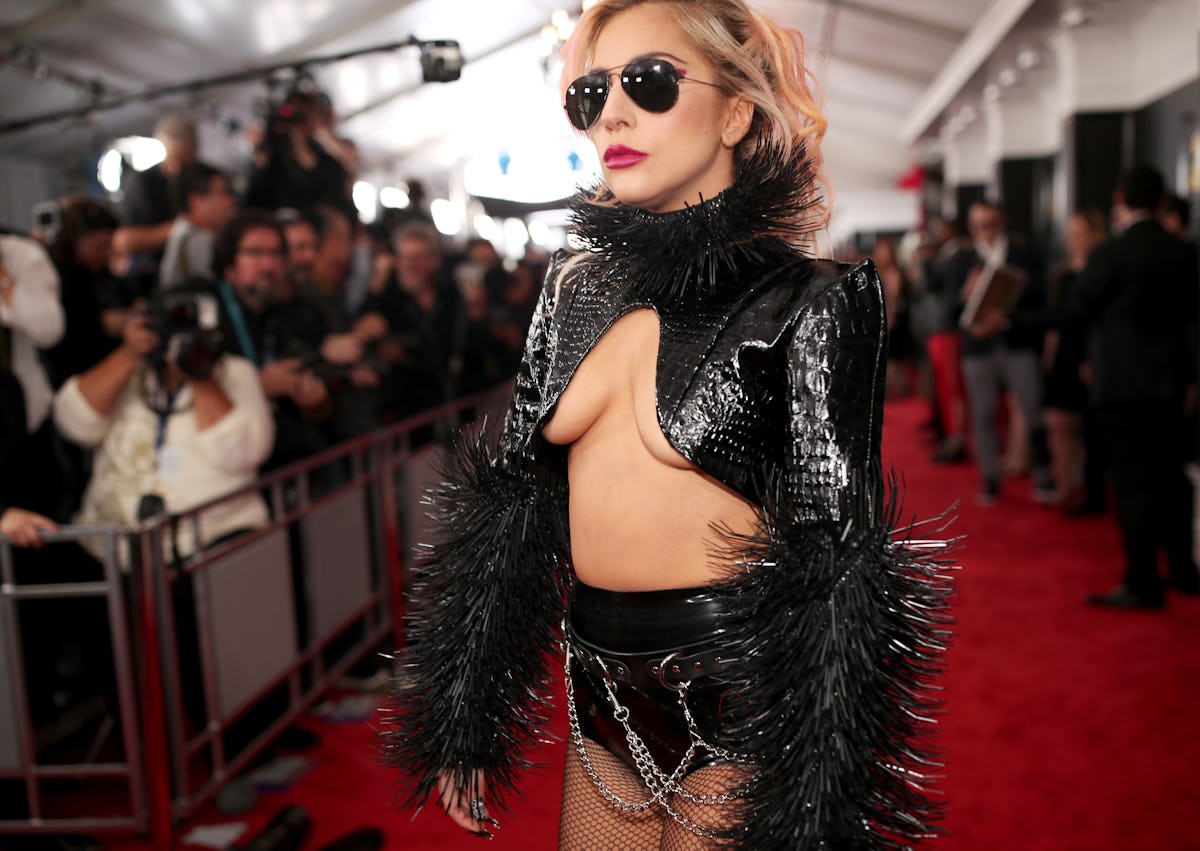 Lady Gaga's Net Worth Will Make Your Jaw Drop
Christopher Polk/Getty Images Entertainment/Getty Images
Stefani Germanotta, known to most as Lady Gaga, is a force to be reckoned with: A Grammy award-winning singer and songwriter, she's known for her incredible music, outlandish wardrobe choices, and her outspoken voice. After her 2008 breakout single "Just Dance" debuted, it didn't take the world very long to notice her as a chart-topping artist. Through the years, she's only grown more prominent, until she became so big that even her fanbase had their own names for themselves: Little Monsters. And now, one decade later, you might be wondering, what is Lady Gaga's net worth? I don't think it would surprise anyone to know that the pop singer is worth millions and millions — and then even more millions.
As of 2018, Lady Gaga's estimated net worth is $275 million, according to Luxatic. But Lady Gaga has been relentless in terms of her work and truthfully deserves all that she earns. Proving that she's not only a unconventional pop artist, she's also acted in American Horror Story (and played her character well, I might add), and is an epic performer, showing millions of people her stunt-worthy routine at the 2017 Super Bowl by being suspended mid-air for her grand entrance.
In case you forgot what that looked like (and how terrifyingly scary that must have been for her), let me give you a refresher:
As I said, Gaga clearly works hard for her money.
And if all of these skills on Gaga's resumé aren't good enough for you, let's not forget that in August of 2017, she announced a Netflix documentary called Gaga: Five Foot Two would be released in September:
But that's not all.
Lady Gaga has teamed up with Bradley Cooper (you know the one) to release the film, A Star is Born, which follows a young musician (Gaga) who is mentored by Cooper, a sort of washed-up country music singer who shows her the ropes.
In an interview with Billboard, Lady Gaga talks about how portraying this particular character has affected her personal life. She said,
I have had a couple days to be off set and come out of being Ally, and I have to say: I don't know that I realized how much it affected me, becoming her and the movie, until it was over ... It's been very powerful. It brought me back to another time in my life. It also brought me to a different place, because there are some things about her and I that are different, and I'm back now to being, you know, me and focusing on music. … I had to focus on Ally and her music for the past couple months.
The movie is slated to premiere in September of 2018.
So, what's next for our girl Stef? Big things, obviously.
It was announced that Lady Gaga would be joining the ranks of artists who are performing at the 60th annual Grammy Awards on Sunday, Jan. 28, alongside others like P!nk, Little Big Town, and Childish Gambino, with a special performance by Alessia Cara, Khalid, and Logic, who will be "taking the stage with a group of suicide attempt and loss survivors in a special performance of "1-800-273-8255," according to Billboard.
Also, NBD, but Lady Gaga scored two nominations, for Best Pop Vocal Album for Joanne as well as Best Pop Solo Performance for "Million Reasons."
:casually sips tea as awards keep rolling in:
Make that money, honey.
Ironically, Gaga revealed that she actually once thought about quitting the music industry because of her success. According to ET, as part of Gaga's Emotion Revolution project, she said,
I have had to make decisions. 'Why am I unhappy? Okay, Stefani, Gaga, hybrid-person. Why are you unhappy? Why is it that you wanted to quit music years ago?' I feel sad when I'm overworked, and that I just become a money making machine, and that my passion and my creativity take a back seat; that makes me unhappy.
She then said that learning to say no to things — like sponsorships and promotional photo shoots – helped her. She said, "Slowly but surely, I remembered who I am."
You go, Gaga.