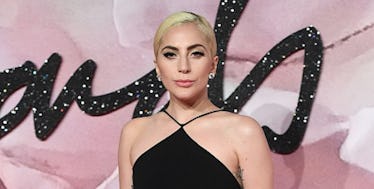 'American Horror Story' Finally Confirms Whether Or Not Lady Gaga Is In Season 7
Samir Hussein/GETTY
Puppies and kittens playing together. Nachos. The musical stylings of Carly Rae Jepsen.
None of these have anything to do with what is written below, I just wanted to send good thoughts your way before I tell you Entertainment Weekly has confirmed Lady Gaga will not be returning for the upcoming season of American Horror Story.
That's right. :( Despite recent rumors that have suggested otherwise, Mother Monster will officially not be returning for Season 7 of our favorite twisted and sadistic television series.
Recently, an American Horror Story fan account on Twitter got the attention of the show's fans and little monsters alike when it tweeted a photo of an allegedly leaked article confirming Gaga's part in the upcoming season.
The article said,
[Gaga will] return for an undisclosed role in the election-themed 2017 series set to debut in September.
Gaga's roles in Season 5 as The Countess and Season 6 as the OG supreme were amazing. Like, Golden Globe amazing. So, of course, the excitement took off pretty quickly as people started wondering what her new role might be in the election-themed forthcoming season.
Sadly, though, we were all let down to find out the rumors were not true, and Gaga will not be vying for another Globe for this year's AHS cycle.
The rumor was denied after director Ryan Murphy uploaded a new teaser for Season 7 to his Instagram with the caption "AHS SEASON 7 clue: ambidexterity."
And, while we can't expect to see Gaga dive deep into a new sinister character this season, we will definitely see our faves Sarah Paulson, Evan Peters, and Cheyenne Jackson take on new roles, which is consoling enough for now.
This is sad, yes, but can we really blame Mother Monster? I mean, she's super busy planning a tour, filming a movie, and ignoring our many requests for a music video for "The Cure." Maybe Ryan Murphy can make it up to us by getting Jessica Lange back?