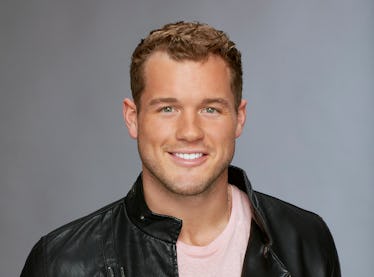 Here's Everything Bachelor Nation Should Know About The Newest Bachelor
ABC
Colton Underwood is the new Bachelor! The former NFL player who was eliminated before the final rounds of Becca Kufrin's season of The Bachelorette was revealed to be the show's new leading man on Tuesday, Sept. 4, on Good Morning America. Underwood appeared on Bachelor in Paradise and dated contestant Tia Booth following his departure from Becca Kufrin's season, but what happened to Colton on Becca's season of The Bachelorette? Based on his stint on the show, you wouldn't really think he was the most obvious choice to be the Bachelor — other contestants had much more dramatic experiences with Kufrin — but here we are, so let's break down Colton Underwood's Bachelor history.
Colton was a sweetheart all throughout his time on Becca's season, making him a fan favorite for some. Others preferred Jason Tartick over him, as he had a more dramatic time on the show, but Colton had his fair share of drama with Becca. (Sure, it's no making it all the way to the fantasy suite then being sent home before actually entering the fantasy suite, but it's dramatic nonetheless.) Good Morning America revealed Colton as the new Bachelor in its broadcast on Tuesday, Sept. 4 (just one day after his breakup with Tia Booth aired on Bachelor in Paradise, I might add).
Colton's most notable moment on Becca's season was when he revealed to her that he's a virgin. He had already shared that news with the men throughout the Bachelor mansion throughout the season, so it was only a matter of time before he told Becca.
The two were on a date in the Bahamas having a romantic day on a boat together followed by a dinner later that night. A solo shot during their boat ride featured Colton revealing that it was time to tell Becca about his virginity, so when dinner came around, things got serious. He broke the news to Becca in a mature way and was visibly nervous about her reaction. Becca's initial reaction to the news was definitely one of shock. She had to get up and walk away to have a moment to compose her thoughts.
Some viewers thought that was a pretty sh*tty reaction, all things considered, but it seemed like Becca walked away more so she could compose her thoughts and say the appropriately-sensitive thing in response (he had just revealed one of his most vulnerable truths about himself, after all). She told him that she appreciated him being vulnerable and transparent with her, saying that she could tell by the look on his face that it was scary for him to reveal that part of himself. After her horrible breakup with Arie last season that was a result of him not being able to be honest with her from the jump, she no doubt appreciates it when a man tells her the full truth.
Becca ended up giving Colton a rose at the end of that conversation, and then it was off to the hometown visits in the next episode. That's where Colton's departure was sealed.
Despite some fans thinking Becca sent Colton home the episode after he revealed his virginity was because he was a virgin, the episode where he was sent home paints an entirely different picture. Sure, Colton being sent home one episode after revealing his virginity makes it really easy to conclude that he was sent home for that specific reason, but the reality of his elimination is much more complicated than that.
Becca met Colton's family during the hometown visits. That's where she learned that Colton had never brought a woman home to meet his family before, and after an intense conversation with Colton's father, she was understandably worried about the future she could have with Colton. To add to all of this, Colton and former Bachelor contestant Tia Booth had a fling before Colton started filming for Becca's season. Tia appeared in Episode 3 of Becca's season to clear the air for her friend (they were both on Arie's season together) and assured her that things were long done between her and Colton.
But the plot thickens. Tia appeared again in the hometown visits episode and revealed to Becca that she still had feelings for Colton. Cool, cool, cool. Put Becca's conversation with Colton's father and the bombshell reveal from Tia together and what have you got? A damn mess, that's what. Colton was sent home at the end of the hometown visits episode because of all of this drama, and honestly, I can't blame Becca for it. He had a lot of baggage that didn't necessarily scream "I have no unfinished business in my life, I'm ready to propose to you."
To no one's surprise, Colton and Tia started dating when they both appeared on Bachelor in Paradise following his elimination from Becca's season. Colton and Becca actually reunited on BIP and had a mature conversation, and things seemed to have been going fine between Colton and Tia throughout the season. Then, in an episode of BIP on Monday, Sept. 3, Colton and Tia broke up conveniently just in time for Colton to be revealed as the new Bachelor the very next day.
Colton posted a sweet (albeit awkward... who posts breakup Instagrams? Am I the only one who thinks this is weird as hell?) post saying goodbye to his relationship with Tia on Sept. 3. "Thank you for teaching me even more about myself," he said in the caption, "and most importantly, for your friendship that I know will continue far beyond Paradise." He added, "Don't settle for anything less than the world, because that's what you deserve. Can't wait to see what the future has in store for you and catch up on life some day, preferably over a hot dog dinner."
Something tells me this Tia and Colton saga is long from over.