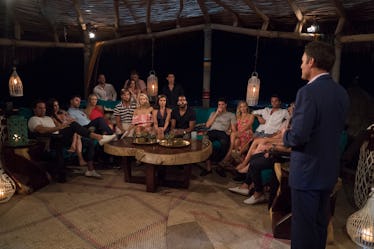 This Fan-Favorite 'Bachelor In Paradise' Couple Just Broke Up In The Most Intense Way
ABC
In the past week of Bachelor in Paradise, Tia Booth and Colton Underwood being reduced to background players talking about cheese and underpants has been pretty spectacular. After the first half of the season bored their on-and-off relationship to death, Tia and Colton finally considered themselves a couple and their airtime significantly decreased. But all good things must come to an end, and on Sept. 3's episode, Colton and Tia's sudden breakup on Bachelor in Paradise was actually pretty heartbreaking.
Whether or not ABC intended it, this summer has become the era of Tia and Colton. The saga started all the way back at the beginning of Becca Kufrin's Bachelorette season, when Colton confessed to Becca that he had a pre-Bachelorette relationship with her fellow Bachelor Season 22 contestant Tia. Tia then popped up on a group date, reassuring Becca that her feelings for Colton weren't there, but the two didn't even have an on-camera conversation at that point. Then, after hometown dates, Tia told Becca that she struggled with the idea of Colton continuing in the competition. It's crazy to think about, but we didn't even see Tia and Colton talk to each other until they met again on Paradise.
Since then, even supporters of the pair seem to have grown tired of their conversations about where their relationship stands. Paradise kicked off with Tia and Colton going on a date, but Colton was initially reluctant to commit to her. It took a killer pep talk from Bibiana Julian (Bibs for Bachelorette, please) for Colton to change his mind and start as much of a relationship with Tia as possible when you're trapped on a beach 24/7. But as we all know, happiness is difficult to maintain in Paradise, and it didn't take long for Colton and Tia to hit a rocky path in their relationship.
The trouble first brewed when Colton confided in Kevin that he wasn't "feeling it" with Tia and that he couldn't keep her tied to a relationship. In a confessional, he teared up about always wanting to please people in his life and ultimately just hurting himself in the end. The emotions tie back to his difficult and premature departure from playing professional football, and such a massive life change seemed to affect Colton's reasoning for not wanting to continue his time with Tia.
Meanwhile, Tia thought they couldn't be better, especially when the other women started freaking out about the stability of their relationships. While she had marriage and babies on the mind, Colton confessed to her that despite trying, their relationship just wasn't working. Tia actually seemed to sense the news was coming, so perhaps her view of their bond wasn't as starry-eyed as she let on.
Knowing he couldn't give her what she deserved, Colton let Tia cry on his shoulder, but neither wanted to stay around without the other. With that, Tia left, leaving Colton to sob on the beach about hurting her. Welp, is that the end of our summer-long drama?
The saga of Colton and Tia may be over for now, but we'll have to wait and see if another couple joins the ranks of their screen time in the remaining Paradise episodes. Bachelor in Paradise continues on Tuesday, Sept. 4, at 8 p.m. ET on ABC.