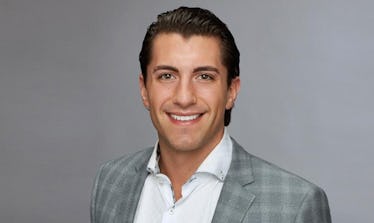 If You Wanted Jason To Be 'The Bachelor,' These Tweets Will Hit You Right In The Feels
ABC
Summer has officially come and gone, so you know what that means: a new season of The Bachelor. Good Morning America, as always, was tasked with revealing who the upcoming season of the ABC staple has been chosen to be the new heartthrob. Leading up to the announcement on Tuesday, Sept. 4, there were around six men rumored to be in the running including Jason Tartick, Blake Horstmann, Joe Amabile, and Colton Underwood, and Good Morning America just revealed Colton Underwood is the new Bachelor! Start your swooning, people. While Underwood is loved by a lot of Bachelor Nation fans, there were a lot of people rooting for Jason Tartick to be given the spot, at least based on these tweets about Jason not being The Bachelor.
Jason made it all the way to the fantasy suite episode of Becca Kufrin's season and made her (and fans) swoon when he said, "When I'm with you I can't stop smiling and when I go to bed I can't stop thinking of you. And when I wake up I want to be with you. And when I kiss you I don't want to stop kissing you," during the hometown visits. Lots of people thought he was a shoo-in to win and get engaged to Kufrin, but despite making it to the fantasy suite episode, they never actually made it to the fantasy suite. Kufrin said her feelings for him weren't "100 percent there" and she sent him home before their overnight date could continue. Yikes.
Tartick fans were hoping his dramatic run on The Bachelorette would mean he could easily be the new Bachelor, so fans are heartbroken he wasn't chosen.
Let's not forget, though, that it's possible he was offered the spot and turned it down.
Underwood, on the other hand, is known for being a former NFL player and dating Olympic gymnast Aly Raisman, but he was also a fan favorite when he competed on Becca Kufrin's season of The Bachelorette this past summer. He famously got kicked off the show the same episode he revealed to Kufrin that he's apparently a virgin, and there was a lot of outcry online from Underwood fans who felt that Kufrin sent him home because of that fact. (Or, in the much more likely case, she just didn't like him enough to keep him on the show.) He then appeared on Bachelor in Paradise and dated contestant Tia Booth, but the romance wasn't meant to last and they broke up on the show on Monday, Sept. 3. (Convenient timing, ABC. We see what you did there.)
Despite the tearful breakup on the show, Underwood had a sweet message for his now ex-girlfriend that he posted to Instagram after the episode aired.
"Thank you for teaching me even more about myself," he said in the caption, "and most importantly, for your friendship that I know will continue far beyond Paradise." He continued, "Don't settle for anything less than the world, because that's what you deserve. Can't wait to see what the future has in store for you and catch up on life some day, preferably over a hot dog dinner."
Did they break up because Underwood was offered the Bachelor spot? Uh, looks like it! Tia Booth talked about the rumors that Underwood could be the next Bachelor during the taping of the Bachelor in Paradise reunion taping. In an interview with Entertainment Tonight, Booth said "I don't know that he's ready, I don't" when asked to address the rumors that her ex could be the show's next leading man. Awkward, because Underwood definitely thinks he's ready. Hey, if it doesn't work out, we know fans have Jason as their backup for Bachelor.