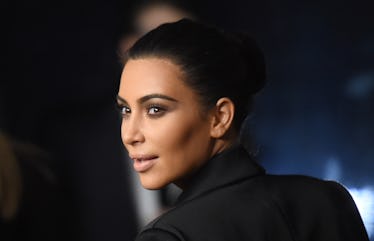 Fans Think Kim Kardashian's Third Baby Was Already Born Because Of This Major Clue
Jason Merritt/TERM/Getty Images Entertainment/Getty Images
EXCUSE ME. CAN ANYONE FIND KIM? It's been roughly five days since she's shared a picture in real time, and fans are thinking this can only mean one thing. Hey, was Kim Kardashian's third baby born? I don't know! Like, maybe! We have a lot of reasons to think so, but without official confirmation from Kim K herself, how can we know for sure??? All we have to hang on to are Kim K's posts, and those have slowed down substantially.
Let's level with one another, Kardashian is social media obsessed. There are only a very few circumstances that could keep her away from snapping or gramming an epic selfie. One option is that aliens landed in her pool and she's been taken away to outer space for testing as earth's most ideal specimen. The other option is that her third baby arrived.
It's not impossible, and according to some sources, the baby may even be late. One insider told Us Weekly, "Kim's surrogate is due before Christmas." Well, guess what, insider! Christmas was a whole week ago, and if that baby is here, we sure as hell haven't seen her yet!
However, we do know that Kardashian's baby boy Saint was hospitalized for pneumonia from Thursday, Dec. 28 to Saturday, Dec. 30. It's possible Kardashian has just been busy giving her toddler tons of TLC. In an uplifting post on Instagram, Kardashian shared the following message:
My precious baby boy is so strong! After spending three nights in the hospital & seeing my baby get multiple IV's and hooked up to oxygen machines, our end of year was challenging. Pneumonia is so scary. I just want to thank every nurse & doctor out there who works so hard around the clock. We are so grateful for you all! He's home and all better. He's so resilient I'm sure he will still say the ambulance ride was cool! My strong Saint.
While she definitely wrote the caption herself, the picture that accompanied it was a throwback to New Year's weekend, not a new photo. On Jan. 3, she took to Twitter to defend herself and husband Kanye after fans speculated they weren't spending much time at the hospital during Saint's stay. She wrote,
I haven't heard this BUT lets get this straight. I did not leave my son for one minute during his hospital stay. We were there Wednesday night to Saturday. NYE WAS SUNDAY NIGHT. People came over when he was already asleep for the night! Don't even try me when it comes to my kids.
Oh, we won't, Kim. So, can you just tell us if baby number three is here?
To heighten suspicion further, TMZ reported that Khloé Kardashian was spotted at the Los Angeles airport on Jan. 3. Assuming she was flying in from her second home in Cleveland, it's not outrageous to think she might be in town to meet her new niece.
If Kimye's baby is here, that means she is the first to arrive out of the three reported Kardashian/Jenner pregnancies. Khloé officially confirmed she is expecting with boyfriend Tristan Thompson in December, and we've known that Kim and Kanye decided to use a surrogate for their third child a while ago. Now, fans are waiting for news on 20-year-old Kylie's reported pregnancy so we can all finally move on with our lives.
Kim, if she's here, we already love her. If she's not here yet, we still already love her. Sending you good, happy, and healthy baby vibes!
Check out the entire Gen Why series and other videos on Facebook and the Bustle app across Apple TV, Roku, and Amazon Fire TV.