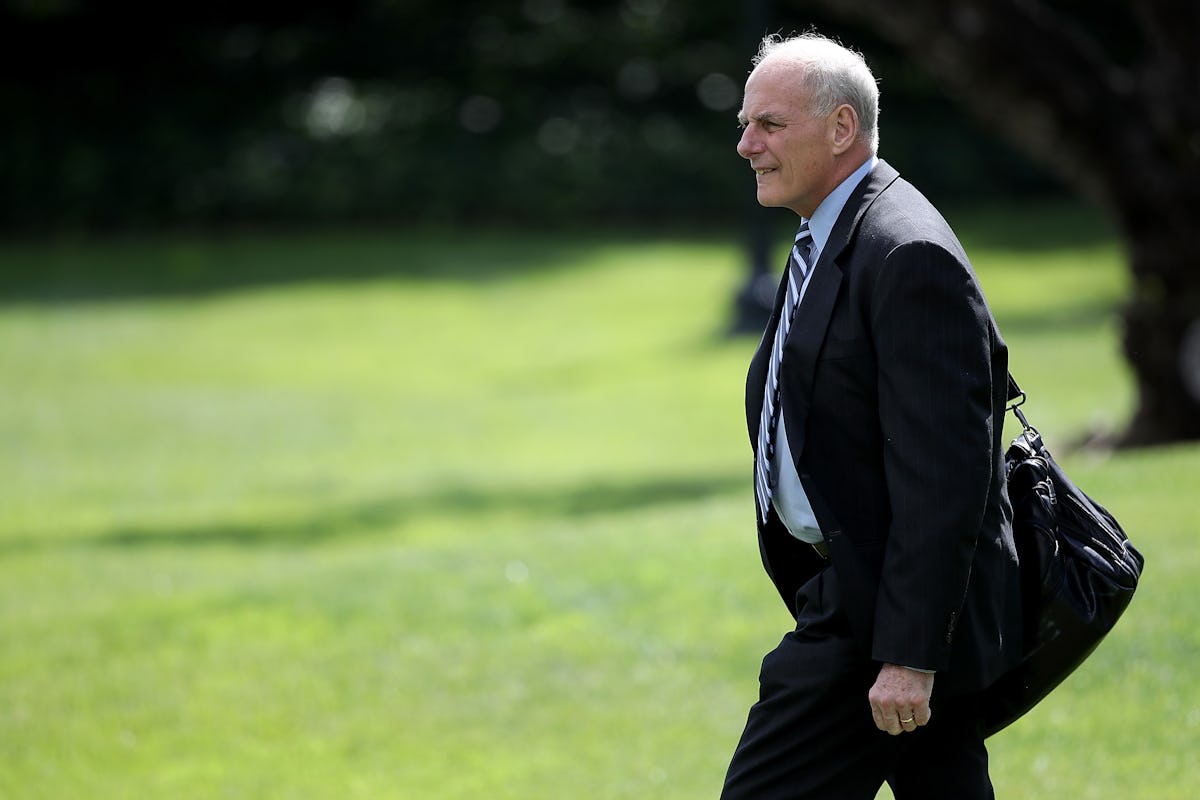 Trump's Chief Of Staff Discussed The Civil War &, Um, Wow
Win McNamee/Getty Images News/Getty Images
The White House's inner circle suffered one blow after another on Monday, Oct. 30. After a day of explosive news surrounding President Donald Trump's campaign staff, Chief of Staff John F. Kelly went 0-2 Monday night. On The Ingraham Angle, Kelly blamed the Civil War on a "lack of compromise" and called General Robert E. Lee "an honorable man."
The Fox News show, hosted by Laura Ingraham, dove headfirst into the debate about removing Confederate statutes. Kelly was asked what he thought about the removal of plaque commemorating George Washington and Robert E. Lee from an Alexandria church. Kelly said,
Well, history is history. There are certain things in history that were not so good, and other things that were very very good. I think we make a mistake ... when we take what is today accepted as right and wrong and go back 100, 200, 300 years or more and say, what Christopher Columbus did was wrong, 500 years later. It's inconceivable to me that you would take what we think now and apply it back then. I think it's very very dangerous.
Kelly said that such an application of modern values on historic times showed a lack of appreciation for history itself. He added,
I would tell you that Robert E. Lee was an honorable man, he was a man that gave up his country to fight for his state. .... The lack of an ability to compromise led to the Civil War, and men and women of good faith on both sides made their stand where their conscience had them make their stand.
The language was eerily similar to that of Trump in what has been colloquially called the "both sides" speech. The president gave the speech in the wake of upheaval after a man killed a woman and injured several others at a counter-protest of a white supremacist rally in Charlottesville. In his remarks, Trump blamed both right- and left-wing activists for the violence that took place.
For comparison, here's the video of Kelly's comments:
People on Twitter were outraged over Kelly's comments, both on Lee and on compromise.
CNBC reporter Chirstina Wilkes called out Kelly for suggesting that compromise was what was needed.
Writer Ta-Nehisi Coates slammed Kelly's argument from all angles with a thread about the history of the Civil War era.
Vox editor Ezra Klein pointed out how white men largely wrote (and rewrote) the history of slavery.
Many people immediately caught the echo Kelly's comments made to Trump's comments on Charlottesville.
Numerous users were also upset over Kelly's defense of Robert E. Lee.
Rounding it out, some on Twitter appeared jaded about the whole thing, and not surprised in the least by Kelly's comments.
Kelly's comment came at the end of a head-spinning day for the White House.
Earlier Monday, news broke that Paul Manafort, Trump's former campaign chair, and associate Rick Gates had surrendered to the FBI after the Justice Department came forward with 12 charges against them. Among the charges, all of which they pleaded not guilty to, were money laundering and conspiracy against the U.S. Shortly thereafter, files were unsealed showing that a campaign aide, George Papadopoulos, pleaded guilty to lying to the FBI during its investigation into Russian influence in the 2016 election. Papadopoulos' testimony shed light on what seemed to be a clear path from some of Trump's campaign to the Kremlin.
Kelly himself has received his fair share of blowback recently. He was called out on social media for saying "women were sacred" in a speech defending military service members and Trump's outreach to grieving families. He also came under fire for making the speech itself, in which he made false claims about Rep. Frederica Wilson (D-FL), and defending Trump, whose call to a grieving widow made her cry.
And as one user pointed out:
If Monday's comments about the Civil War could've come at a worse time, I'd be interested to know what that would be.