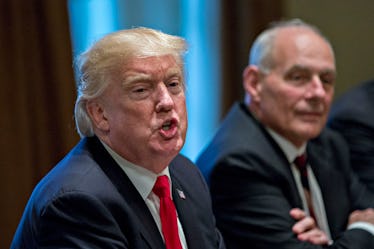 Widow Of Fallen Soldier Speaks Up On Her Call With Trump & It's Devastating
Pool/Getty Images News/Getty Images
The latest in a debate about how the president handled a call to a grieving widow of a U.S. soldier escalated again Monday, Oct. 23. The wife of Sgt. La David Johnson, Myeshia Johnson, spoke about her call with Donald Trump, breaking silence on what has been a he-said-she-said account as to what happened during the phone call. The interview appeared on ABC's Good Morning America on Monday morning.
Trump has been in disagreement with Rep. Frederica Wilson (D-FL), who was present with Johnson during the call, saying that the congresswoman fabricated what he said. Speaking publicly for the first time about what the call entailed, Johnson herself recounted the call. She told GMA,
Yes the president said that he knew what he signed up for, but it hurts anyway. And it made me cry cause I was very angry at the tone of his voice and how he said he couldn't remember my husband's name.
On Tuesday, Oct. 17, Wilson gave her account of the phone call on CNN Tonight, following news that four American soldiers had been killed in an ambush in Niger earlier in the month. Wilson, referring to Trump, told host Don Lemon,
Basically he said, 'Well, I guess he knew what he signed up for, but I guess it still hurt.'
That same day, Trump had suggested that his calling military families after a loss was an unusually generous gesture that Former President Barack Obama didn't do. This claim was quickly proven false.
The disagreement over how the phone call itself went over has dragged on, bringing more weighers-in with it. On Thursday, Chief of Staff John F. Kelly defended the president and his efforts to comfort military families in a lengthy speech, calling Rep. Wilson an "empty barrel" and claiming she had tried to steal credit in 2015 while dedicated a building to fallen FBI members. After a video of Wilson's speech emerged, news stations played the clip in its entirety, showing no evidence of the statement Kelly claimed she made. When pressed about this discrepancy on Friday by reporters, Kelly stood by his original statement.
In the Monday interview with host George Stephanopoulos, Johnson, whose family has had a long-time connection with Wilson, unequivocally defended the congresswoman's earlier accounts of the phone call, saying,
Whatever Ms. Wilson said was not fabricated. What she said was 100 percent correct. It was Master Sgt. Neil, me, my aunt, my uncle and the driver and Ms. Wilson in the car, the phone was on speaker phone. Why would we fabricate something like that?
Just following the GMA segment, Trump again tweeted his own version of events, openly contradicting Johnson's account, as if to get in a last word on the matter.
It's not going over too well, after Kelly's persistent backing of the president last week, aided by White House Press Secretary Sarah Huckabee Sanders, who said the president:
...wanted to call and offer condolences to the family. To try to create something from that, that the congresswoman is doing, is frankly appalling and disgusting.
In what has become a giant PR turducken, Sanders also defended Kelly in defending Trump.
Over the weekend, Trump kept up his narrative. Early Sunday morning, the president tweeted yet again about Wilson, name-calling included.
This isn't the first time Trump has made enemies of honorable military families. The Los Angeles Times reports that Khizr Khan, the Gold-Star father of a fallen soldier who criticized Trump during the election, spoke out on the president's recent fued with Johnson. He said Saturday that the White House's behavior was "disappointing," adding that administration officials had been,
...in front of the cameras and providing a defense for the indefensible behavior.
Amidst the public controversy about notifying families of fallen soldiers, the White House is apparently trying to save face. The Huffington Post reported this weekend that the administration is rushing to deliver correspondence to Gold Star families.