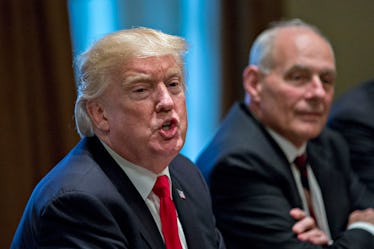 Trump Doubles Down On False Claim That Obama Didn't Call Families Of Fallen Soldiers
Pool/Getty Images News/Getty Images
A day after making a false claim about former President Barack Obama's contact with military families, President Donald Trump again discussed how past presidents addressed deaths of U.S. soldiers. During a radio interview with Fox News' Brian Kilmeade on Tuesday, Oct. 17, Trump suggested Obama didn't call families of fallen soldiers again. This time, the president did so while invoking the death of a son of Gen. John Kelly.
Trump said during the interview,
Now, as far as other representatives, I don't know. I mean, you could ask General Kelly did he get a call from Obama. You could ask other people. I don't know what Obama's policy was. I write letters, and I also call.
Gen. Kelly is Trump's current White House Chief of Staff. His son, Lt. Robert Kelly, was killed in Afghanistan while after stepping on a land mine, according to Politico.
Later in his interview on Tuesday, the president said,
It's an incredible scene and very, very sad. One of the saddest things you'll ever see. But I really speak for myself. I'm not speaking for other people. I don't know what Bush did, I don't know what Obama did. You could find out easily what President Obama did. All you have to do is ask the military people but I believe his policy was somewhat different than my policy. I can tell you my policy is I've called every one of them.
After the interview, NBC News reported reported via Twitter that a White House official said Gen. Kelly did not receive a call from former President Obama after Lt. Kelly died in 2010. The same outlet also reported Gen. Kelly was hosted at the White House in 2011 during a ceremony honoring Gold Star families (those with immediate family members who have died while serving in combat), seated with Michelle Obama.
A day before Trump's Tuesday interview with Fox News radio, President Trump said Obama and "other presidents" didn't call families of fallen soldiers, telling reporters during a press conference in the White House Rose Garden,
So the traditional way — if you look at President Obama and other presidents, most of them didn't make calls. A lot of them didn't make calls. I like to call when it's appropriate, when I think I am able to do it.
When pressed on the suggestion that Obama never made phone calls to families after the death of service members, the president immediately backtracked.
I don't know if he did. No, no, no. I was — I was told that he didn't often, and a lot of presidents don't. They write letters.
Trump then added,
President Obama, I think, probably did sometimes, and maybe sometimes he didn't. I don't know. That's what I was told.
The press conference on Monday prompted multiple members of former President Obama's administration to criticize Trump, including former Attorney General Eric Holder.
Trump brought up the subject of different presidents' approach to the death of U.S. service members after a reporter asked the president on Monday why he had not commented on the deaths of four U.S. soldiers in Niger, which had occurred more than 10 days prior. On Monday, he said he'd called every family of soldiers who have fallen during his presidency, telling Fox News,
It's very difficult to be able to do that, but I have called, I believe, everybody. But certainly I'll use the word 'virtually' everybody, where during the last nine months something's happened to a soldier I've called virtually everybody. I've gone to Dover [Air Force Base]. I've seen what takes place at Dover. It's an incredible scene and very, very sad — one of the saddest things you'll ever see.
The president said on Monday that he would be calling the families of those killed in Niger in the near future.