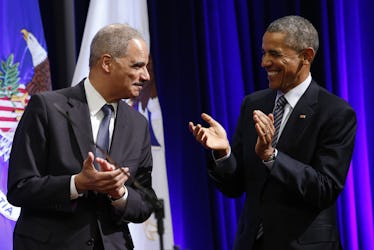 Former Attorney General Rips Trump For False Claim About Obama: "Stop The Damn Lying"
YURI GRIPAS/AFP/Getty Images
With a single photo posted on Twitter, former Attorney General Eric Holder responded to a false claim that President Donald Trump made about former President Barack Obama. Holder's photo also came with a straightforward suggestion for the president — "Stop the damn lying" — on a day Trump had told reporters that Obama didn't make phone calls to families of fallen military members. The whole of Holder's tweet about Donald Trump read,
Stop the damn lying — you're the President. I went to Dover AFB with 44 and saw him comfort the families of both the fallen military & DEA.
Holder's photo indeed showed the former attorney general with Obama at the Dover Air Force Base in 2009, as both men and other military members saluted the bodies of 18 Americans killed in Afghanistan.
Holder wasn't the only former Obama administration official to respond to Trump's claim. Former Obama adviser Ben Rhodes referred to the claim as an "outrageous and disrespectful lie even by Trump standards." Former White House Deputy Chief of Staff Alyssa Mastromonaco went even further, called the current president a "deranged animal."
Martin Dempsey, the former chairman of the Joint Chiefs of Staff — a position reserved for the nation's highest-ranking military officer — also moved to contradict any suggestion that Trump's predecessors didn't respond to deaths in the military enough. Dempsey wrote on Twitter,
POTUS 43 & 44 and first ladies cared deeply, worked tirelessly for the serving, the fallen, and their families. Not politics. Sacred Trust.
Here's how the situation started:
The subject of how former presidents responded to deaths in the military was introduced by President Trump himself at a press conference in the White House Rose Garden on Monday, Oct. 16, during which he was questioned about his lack of response to the deaths of four U.S. service members in Niger.
When asked by a reporter why the public hadn't yet heard any comment from him about the deaths — which occurred more than 10 days prior to the press conference — Trump responded by telling media members that he'd written a letter to the families of the four Americans.
The president then went on to say that he would also call the families, before then shifting focus to Obama and falsely claiming that his predecessor didn't do the same.
Trump said,
Now, it gets to a point where, you know, you make four or five of them in one day — it's a very, very tough day. For me, that's by far the toughest.
So, the traditional way — if you look at President Obama and other presidents, most of them didn't make calls. A lot of them didn't make calls. I like to call when it's appropriate, when I think I am able to do it.
When another reporter asked how he could make that claim, Trump then backtracked.
I don't know if he did. No, no, no. I was — I was told that he didn't often, and a lot of presidents don't. They write letters.
The president later added,
I do a combination of both. Sometimes it's — it's a very difficult thing to do, but I do a combination of both.
President Obama, I think, probably did sometimes, and maybe sometimes he didn't. I don't know. That's what I was told.
During a press briefing later in the day, White House Press Secretary Sarah Huckabee Sanders also moved to backtrack from the claim that Obama didn't call families of fallen soldiers.
Meanwhile, former Obama administration members offered up a more straightforward point of view: Trump's claim is a lie.