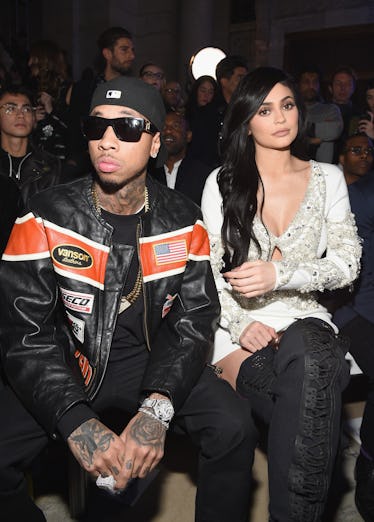 Tyga Low-Key Throws Shade At Kylie Jenner On Snapchat With This Awkward Caption
Dimitrios Kambouris/Getty Images Entertainment/Getty Images
I don't know what it's like to be Kylie Jenner's ex-boyfriend, but I imagine it's a whole thing. Tyga's Snapchat about needing a girlfriend seems to low-key throw shade at Jenner, but it also makes me a little sad inside. Call me a sentimentalist. Tyga and Jenner broke up about eight months ago, and things took a real turn for the rapper and reality TV star really, really fast.
If you have a pulse, you know that Jenner is reportedly pregnant with her new boyfriend, Travis Scott. The two got together quickly after Jenner called things off with Tyga, and almost immediately, reports broke that she and Scott were expecting. Initially, Tyga seemed to be handling everything really well, until he mysteriously snapped a photo of one of Jenner's pregnancy headlines with the caption, "Hell nah thats my kid."
When he was called out for it, Tyga insisted the Snapchat never happened and the story was fake. He told Metro UK, "I didn't comment on anything, I didn't comment on anything, it was a fake story. It's all a fake story."
Sure, and we're all just seeing things.
Whatever. The point is, it must be a confusing time to be Tyga.
On Wednesday, Dec. 13, Tyga took a break from posting the usual videos and photos of his concerts and performances to snap himself holding a very fancy pink shoe. We all might be learning he has a small shoe fetish, because he captioned the video, "I need a gf."
He added the dollar sign smiley-face emoji.
What are you trying to say, T? Are you trying to say that if Kylie was still your girlfriend, she might get some fancy-ass pink heels for Christmas? I hate to be the one to break it you, but she probably can splurge for these herself.
After all, Kylie Jenner is a freaking millionaire.
Despite the obvious distraction that comes with pregnancy, Jenner is totally killing the 2017 business game. Her holiday collection from Kylie Cosmetics is selling like, well, Kylie Cosmetics, and she was recognized in Forbes' 30 Under 30 for "Retail and E-Commerce." This makes her the second richest Kardashian after Kim.
Plus, if Jenner is missing Tyga, we don't know it. She's been maintaining her online social media presence by posting throwback photos and tons of face selfies, fueling pregnancy rumors even more. She also recently popped up in one of her limited Keeping Up With Kardashians appearances this season for the family's holiday episode. In it, Jenner said she is most thankful for her mom Kris, who followed up by saying,
I used to pray that one of you guys would have a baby, and now it's like a faucet that we turned on that won't turn off.
Hm, sounds like a real deal pregnancy to me.
As far as Jenner's new relationship goes, she and Scott seem to be totally smitten. When pregnancy reports first struck, People reported that Jenner initially broke up with Tyga because their relationship felt too serious, but that she was delighted to find out she was pregnant with Scott's baby. An insider said,
Kylie broke up with Tyga partly because she felt too young to get serious. Now she's having a baby with a guy she just started dating. People around her are really surprised. It happened really fast, but for Kylie, being with Travis is so different than anyone else. She's so in love with him. She's really excited.
In the meantime, ladies, does anyone need some pink shoes? Tyga's buying.
Check out the entire Gen Why series and other videos on Facebook and the Bustle app across Apple TV, Roku, and Amazon Fire TV.