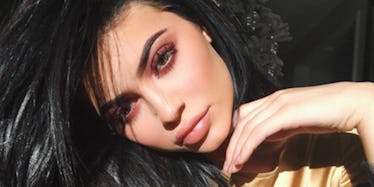 Kylie Jenner Is The 2nd Richest Member Of Her Family And Her Income Is Insane
Instagram
Kylie Jenner may be the youngest of the Kardashian clan, but in no way is that reflected financially.
In fact, her designer purse is bursting at the seams so badly, she's now the second richest member of her family.
Kylie's income is off the chain big, like close-your-eyes-because-this-figure-is-going-to-hurt big. The 19-year-old is believed to have raked in around $18 million last year.
Her success has been pinned to her makeup line. Every time she releases a new $29 lip kit, they sell out instantly.
Forbes recognized her achievements in the "30 Under 30" section for "Retail and E-commerce." Forbes stated,
The reality TV star's Kylie Cosmetics line has gone from strength to strength, with each incarnation of her $29 lip kits selling out upon release.
Forbes went on to report "sources close to the teenager suggest the glosses did seven figures in revenues in 2016 alone."
Also aiding Jenner's success is her apparel line she launched with her sister Kendall.
She thanked Forbes in the most Kylie way possible -- with a selfie on Instagram.
But her worth still doesn't come close to that of her older sister Kim Kardashian, who reportedly took home $51 million last year.
That's not so hard to believe, though -- she pretty much runs an empire.
The mom posted on Instagram yesterday for the first time since the Paris robbery.
It followed a three-month social media blackout. She broke her silence with a cute picture of Kanye and the kids.
Thieves stole jewelry worth hundreds of thousands when they stormed into her hotel room in the French capital.
Kim had been in the city for Paris Fashion Week when the incident took place.
Masked men forced hotel staff to tell them where her room was. She was bound and locked in the bathroom while they ransacked the place.
We're glad to see she's doing well and have her back on our social media feeds.
Citations: Meet The 2017 Class Of 30 Under 30 (Forbes)