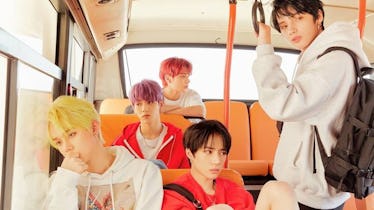 TXT's 'Minisode1: Blue Hour' Teaser Videos Will Give You All The Fall Vibes
Courtesy of Big Hit Entertainment
MOA, the news you've been waiting for has finally arrived: TXT is gearing up for another comeback! On Sunday, Sept. 20, the K-Pop group announced they'll be releasing new music this fall. TXT's Minisode1: Blue Hour album release date and details reveal the next few weeks will be an exciting time for fans.
The last time MOAs got new music from TXT was in May with the release of their first full-length album The Dream Chapter: Eternity, which featured the hit single "Can't You See Me?" Eternity marked the end of the group's Dream Chapter album trilogy, so fans couldn't wait to see what was in store for TXT moving forward.
Now, after months of waiting, TXT announced they'll be making another comeback before 2020 closes out. Fans can find all the details about TXT's upcoming schedule below.
TXT's Minisode1: Blue Hour Release Date
TXT will release their third EP Minisode1: Blue Hour on Oct. 26 at 6 p.m. KST (that's 5 a.m. ET). Fans can pre-order the album on the Weverse Shop beginning on Monday, Sept. 21.
TXT's Minisode1: Blue Hour Video Teasers
TXT made their comeback announcement on YouTube, where they shared a teaser for their upcoming project. The 18-second clip revealed the group's latest logo, which seems to follow an 8-bit video game theme.
The group also shared individual teasers for their their title track's music video.
BEOMGYU's clip shows him sitting on top of a tree as he's surrounded by beautiful autumn leaves.
HUENINGKAI's teaser shows him standing in the middle of a field with his arms wide open as he stares up toward the sky.
Meanwhile, SOOBIN's has him lying on top of a tree and reading a book. It seems like he may be in the same location as BEOMGYU.
TXT's Minisode1: Blue Hour Album Details
TXT gave fans more information about their album on Twitter, like the fact there are three different versions of Minisode1: Blue Hour and each has its own pastel color. Version R is blue, version AR is pink, and version VR is coral. Fans are in for a real treat once they get their package because the EP will come with the following goodies:
CD
Photo book
Photo card
Post card
Sticker
Lyric paper
Behind book
Limited photo
Poster
MOAs can find the album's full details below.
TXT's Minisode1: Blue Hour Tracklist
On Oct. 8, TXT unveiled their EP's highly-anticipated tracklist, revealing it will include five new songs:
1. "Ghosting"
2. "Blue Hour"
3. "We Lost The Summer"
4. "Wishlist"
5. "Way Home"
What's interesting is the direct translation of TXT's second track is "You and me that I discovered in the sky at 5:53." Before Big Hit confirmed the English name was "Blue Hour," fans knew this was going to be the title track because of TXT's history of using long titles in their singles. Currently, fans are trying to come up with theories as to what 5:53 could represent. So far, they've tied it with the "nautical twilight" period of the day, aka, the blue hour.
In terms of the other songs, according to a press release by Big Hit, the third track "describes the daily lives of teenagers who are living a completely changed life due to the COVID-19 pandemic" and because of this, TXT's concept photos depict "the new norms of today's online-centric society."
TXT's Minisode1: Blue Hour Concept Photos
The theme for concept photos R is TXT being "virtually together but by themselves in an online space."
Concept photo VR shows TXT "in a limitless virtual space reflective of today's online-dominant lifestyle."
Meanwhile, concept photos AR "represent the gap between their isolation at home and the places they would rather be."
Until their new album arrives, MOAs can watch TXT's latest music video for "PUMA" off Eternity below.
This article was originally published on