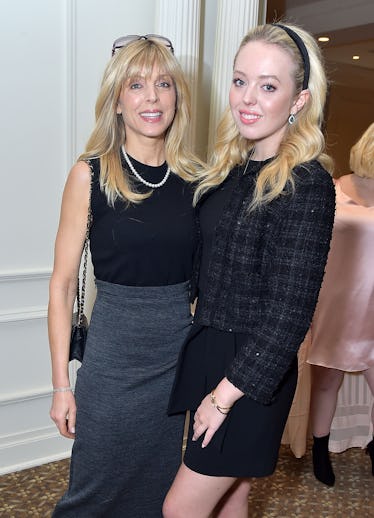 Tiffany Trump Shared A Heartfelt Mother's Day Instagram Post & It's So, So Sweet
Theo Wargo/Getty Images Entertainment/Getty Images
For many people, Mother's Day is all about celebrating the moms in your life and making sure they know how much you appreciate everything they do. In the age of social media, nothing says "thank you" like a photo collage and a captioned tribute to the woman of the hour. Even the super rich and famous take to the web to show their mommas how much they mean to them. Tiffany Trump's Mother's Day Instagram post to Marla Maples was no exception, as Tiffany shared a touching tribute to her mom on Sunday night.
Mother's Day was Sunday, May 13, and Tiffany made sure she posted a heartfelt message about Maples on Instagram before the night was over. In a collage with five photos of the mother-daughter pair, Tiffany wrote a sweet and simple caption to show her mom some love on the special day. Tiffany said in the post, "Happy Mother's Day! @itsmarlamaples I love you with all of my heart and I'm so grateful for all of your love!"
Tiffany is President Trump's youngest daughter, and she is the only child between Maples (Trump's second wife) and the president. From the photos shared in Tiffany's Mother's Day post, the mother-daughter duo appears to be quite close.
Tiffany is currently attending Georgetown Law School in Washington D.C., but she made sure to take the time from her busy law school schedule to let Maples know how much she means to her. Instagram seems to be a popular place for the pair to share what they mean to each other. According to an Instagram post on Maples' page from April 4, Maples sent a message to Instagram haters with anything bad to say about Tiffany. Maples' post with a picture of a cat with her kittens read,
Don't mess with momma cat's kittens.... oh, I am the same about mine even now 24 yrs later. I was thinking of my daughter and how I always want to protect her especially in these time's of great judgment ... when I happened upon this precious one daring anyone to harm her kittens... nature is nature and remember lifting others also lifts us. #justlovemore
Maples was likely responding to people coming after Tiffany after it was reportedly revealed by People that Tiffany feels "awkward" around her dad. The April 3 report from the magazine shared details from a source that said, "Since the inauguration, Tiffany and her father have sometimes gone for months without speaking and she went a very long time without seeing him." The source further detailed the strained relationship adding, "The last time she was at a family function with him, it was awkward for her and she didn't feel totally welcome." (The White House did not comment on the reports.)
With a mom like Maples who seems to have Tiffany's back, it's no surprise that the youngest Trump daughter took to Instagram to show her mom some love on Mother's Day.
From the looks of the mother and daughter's interactions on Instagram, the pair seem to have a close-knit relationship.
Even though there were reports last month of a strained relationship with her father, Tiffany regularly posts tributes to President Trump on days like his birthday and on Father's Day. With that, Tiffany doesn't appear to be shy about sharing what she believes in — even if it may differ from her father's political views. Back in March, Tiffany liked a March For Our Lives Instagram post. While Tiffany seemingly showed her support on social media, President Trump left Washington D.C. during the weekend of the rally, and he didn't even make a reference to the march on Twitter.
Differing political views or not, Tiffany seems to have the millennial daughter duties down pat when it comes to sharing posts about the ones you love on their special days.