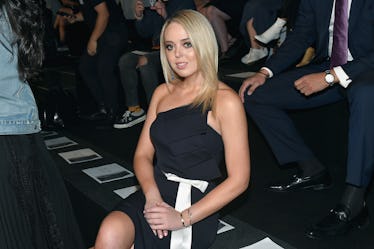 Tiffany Trump Liked This March For Our Lives Pic & I Have Just So Many Questions
Mike Coppola/Getty Images Entertainment/Getty Images
On Saturday, March 24, 2018, people took to the streets with the March For Our Lives to call for an end to gun violence and mass shootings in schools and communities. There were plenty of photos on social media showing the massive crowds at the main event in Washington D.C. and at sibling March For Our Lives protests across the country. And while President Donald Trump was away a Mar-a-Lago on Saturday, one of the president's children made her opinion of the march known with the tap of a "like" button. Tiffany Trump liked a March For Our Lives Instagram, and it's honestly a bit confusing.
Of course social media was flooded with images of protestors holding signs in support of their call for stricter gun legislation to help prevent further mass shootings. There were posters that read, "Protect Children, Not Guns," and "Never Again," but the Instagram post that received a double-tap from Tiffany had a stronger message. Eagle-eyed Huffington Post reporter Ashley Feinberg shared a screenshot on Twitter of the Instagram post that Tiffany reportedly liked. Feinberg's screenshot in her tweet from Saturday night appears to show Tiffany's official Instagram handle (@tiffanytrump) in the "like" section of the @julia.moshy Instagram photo that featured multiple signs from the March For Our Lives demonstration in New York City.
Feinberg's tweet focused on a poster that read, "Next Massacre Will Be the GOP in the Midterm Elections."
Once the news of Tiffany's like on the March For Our Lives Instagram post made its way to Twitter, people were buzzing. Many Twitter users took this specific like to mean that Tiffany might have political views drastically different from her father. It's worth noting that President Trump left Washington D.C. for his Florida residence at Mar-a-Lago ahead of Saturday's March For Our Lives, and he didn't even make a reference to the march with his favorite form of communication, his official Twitter page.
So it makes sense that the internet was very much here for any Trump family member's reaction to the protest, and Tiffany gave the people what they wanted.
"The thunderous clamor of 500 people typing 'Tiffany Trump... welcome to #TheResistance' at once."
"Thank you for your Instagram like vigilance."
"...Tiff is woke."
"Well, people have always said she was the smartest Trump."
"Welcome to the resistance, Tiffany."
While people who seemingly don't support the GOP and what they stand for were thrilled to see Tiffany seeming to stray from her father's Republican party, it's important to remember that all she did was like a post with photos of signs from the March For Our Lives in New York City. Some of those signs did have messages that seem counter to ideas espoused by National Rifle Association (NRA) backed Republicans like Marco Rubio, who opposes legislation like banning assault weapons. (Rubio has said that he would consider banning bump stocks that make guns more lethal, but the NRA's Dana Loesch later said to The Daily News, "The NRA doesn't back any ban.") So it's possible that Tiffany at least agrees with some of the sentiment expressed in the Instagram post.
To take Tiffany's like as a tacit endorsement that she espouses all anti-GOP views is a pretty big leap to take from one double-tap on an app, but it's worthwhile to look at what other posters were featured within that Tiffany-liked Instagram post.
The feature photo showed a sign that read, "It's Not Left or Right, It's Life or Death." Another image showed young children holding signs that read, "ABCs, Not AR-15s," and "We Are Students, Not Targets." Finally, there's an image of a young girl with a signs that read, "Hey Congress, I'm a Political Science Major Ready to Write Gun Laws If You Won't."
Until Tiffany says in her own words how she feels about stricter gun legislation and suggestions (like the one from her father) that certain teachers should have guns in the classroom to protect students, all you can do is keep an eye on her Instagram activity. OK, it's probably not all you can do, but it's still a good idea to keep up with it — just in case.