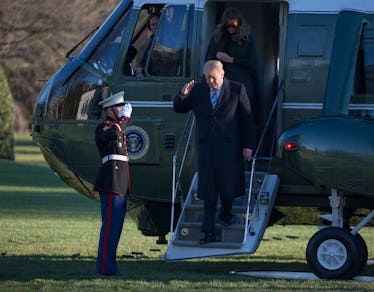 Donald Trump Isn't Marching Today & You Can Probably Guess Where He Is Instead
Pool/Getty Images News/Getty Images
While scores of Americans nationwide flock to the streets in protest of gun violence, the commander-in-chief isn't one of them. President Donald Trump is not at March For Our Lives (MFOL) on Saturday, March 24, despite the protest taking place in the nation's capital. Not far from where a gunman opened fire on Marjory Stoneman Douglas High School in Parkland, Florida last month, Trump is instead spending the weekend at his Mar-a-Lago resort in Palm Beach, Florida.
The Feb. 14 shooting in Parkland, Florida by a former student sparked a national outrage around gun control and addressing the issue of gun violence in the country. Student survivors-turned-activists of the Parkland shooting organized the MFOLand the larger #NeverAgain movement to protest continued gun violence and demand that leaders take concrete steps for change to prevent future attacks.
In addition to the official MFOL in Washington D.C., which was slated to begin at noon on Saturday, sister marches were organized around the country and globe — over 840 in all. While hundreds of thousands of students were expected to descend on Washington, as many as half a million according to The New York Times, the Trump administration expressed support for the protest.
"We applaud the many courageous young Americans exercising their First Amendment rights today," the White House said in a statement released Saturday, per USA Today. "Keeping our children safe is a top priority of the President's."
But the president, some 43 miles from the scene of the massacre, was enjoying his 59th day at Mar-a-Lago as president while students marched near his official D.C. residence.
That Trump is spending his weekend at Mar-a-Lago isn't anything new. As of the end of 2017, Trump had logged about one third of his days in office at properties other than the White House — about 40 of them at his Palm Beach resort. Including Saturday, March 24, Trump has golfed ten days so far in 2018, and 97 times in all since taking office, according to TrumpGolfCount.com.
Some people called out the president for the fact of the sheer frequency and volume of his stays at the property. "Trump starts his day at Mar-a-Lago in Palm Beach, FL," tweeted MSNBC producer Kyle Griffin. "This is Trump's 136th day at a Trump property as president."
Comedian Nick Pappas echoed these facts in a tweet, adding, "So far, he's spent 135 of his 427 days in office at Trump properties. That's 31.6%, or right around his approval rating."
Others called out the president for making himself scarce while the capital was flooded with protesting students and allies.
"The millions @realDonaldTrump wasted on traveling to Mar-a-Lago to hide from the #MarchForOurLives could've been spent on security for schools," tweeted Democratic Coalition co-founder Scott Dworkin. "Shame on Trump. What a coward."
Comedian and talk show host Stephen Colbert also joked that the president seemed to be intentionally avoiding the teens that were expected to storm the Hill demanding change Saturday.
"Hey @realdonaldtrump I thought you said you'd run TOWARD the kids, not away from them!" he tweeted.
Trump's Mar-a-Lago trip this weekend came under fire for another reason as well. Griffin referenced a USA Today report from July 2017 that found that the cost of Trump's Mar-a-Lago trips are also greater than the cost of health care for transgender service members — a damning reminder given that Trump announced Friday that he would be banning transgender members from the military who have undergone or need reassignment treatment. Still, in Florida or not, there was no avoiding the palpable energy present around the country on Saturday as thousands took to the streets to demand action.
The MFOL is one of three demonstrations student-led coalitions are putting on in protest of gun violence. The first was a school walkout on March 14; the MFOL marks the second, and the third will be another walkout on the anniversary of the Columbine shooting on April 20.
MFOL and the #NeverAgain movement, like their peers leading the other events, have stressed the role of politicians — including Trump — in accepting money from the National Rifle Association (NRA), blasting them for being "easy to buy."
The movement's leaders have called for holding legislators accountable for their decisions around gun control come this November. To that end, MFOL organizers are also calling on supporters to register to vote.