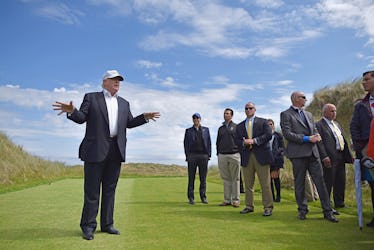 Trump Spent A Third Of His Year At His Properties, But Who's Counting?
Jeff J Mitchell/Getty Images News/Getty Images
President Donald Trump and his family are spending the holidays in Florida on a 10-day vacation to finish out the year. But as he's soaking up the Christmas and New Year's holidays in Palm Beach, exactly how many days Trump spent at Mar-a-Lago and his other properties is stirring anew criticisms of the president's lavish lifestyle. A new report of his travel during his first 11 months in office shows some pretty staggering numbers.
A Wall Street Journal review published on Monday, Dec. 25 found that in his first year in office, Trump has spent nearly one third of his days at one of his own properties. He's logged 40 days at his Bedminster, New Jersey golf course, and another 40 at his Mar-a-Lago resort in Palm Beach, Florida. And the year isn't even over yet.
"Today marks 110th day Trump, as president, has spent time at one of his properties (nearly 1/3rd of his days in office at property that bears his name)," CNN executive editor Ram Ramgopal wrote on Twitter.
Trump is currently at Mar-a-Lago, where he also spent Thanksgiving; he's even taken to calling the resort the "Winter White House." Trump's frequent vacations have drawn particular scrutiny given his promise on the campaign trail that he "would rarely leave the White House," in addition to his criticism of former President Barack Obama for his excursions in years past.
How does Trump compare to his predecessors?
It's common knowledge that Trump's excursions away from the White House are often centered around one of his favorite pastimes: golf. The tally as of Tuesday, Dec. 26 for the president's golf outings is 83, per TrumpGolfCount.com. A New York Times comparison from April showed that even a few months into his presidency, Trump was already far outpacing his precedessors in his golfing habits.
But in terms of his actual trips? Another Times review that same month found that Trump had taken fewer trips in the first three months of his tenure than President Barack Obama and President George W. Bush. But this ranking seems to have changed over the course of the last several months.
Over the decades, many U.S. presidents have racked up hundred of vacation days over an eight-year run; Obama clocked in at 328, while Bush took a whopping 1,020 days off while in office. To clarify, not every day Trump spends at Bedminster or Mar-a-Lago is necessarily a whole day gone; in August, he billed a 17-day getaway as a "working vacation," to much scrutiny. But at 110 days spent at his properties so far in under a year, he's definitely on pace to outdo Obama. And with as much as it costs for each trip he takes, it's worth running the numbers.
How much is all this costing, anyways?
Per USA Today, the cost of operating Trump's golf carts alone during his Thanksgiving trip to the Florida resort was $7,500. The total bill for that trip came in around $16 million.
Per WSJ, the total airfare to the Florida resort alone has racked up a tab of $6 million. The cost of operating the planes is always a big chunk of the bill, and as a more or less fixed cost, Obama's trips were expensive, too. But the sheer number of trips our current president has taken makes these costs more substantial.
Figures have varied on exactly how much each of Trump's trips cost. While Politico estimated $3 million for one trip early in the year, The Washington Post put that figure closer to $2 million; still, it's not pennies.
In terms of how Trump's expenditures stack up compared with Obama, reports vary. One comparison of total travel expenses during the two presidencies at $114 million for Obama and $10 million for Trump; another report estimates Obama's at $97 million and Trump's at $20 million. So it's hard to tell whether Trump is on par with his predecessor or way out of the ballpark.
Who's to say if the ratio will look any different by the time Trump reaches his official one-year mark on Jan. 20. But if the first 11 months are any indication, the "Winter White House" may well have set the tone for his presidency.