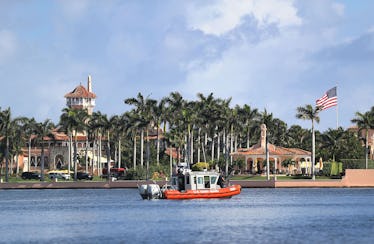 Donald Trump Is Going To Mar-a-Lago Again & Twitter Isn't Down
Joe Raedle/Getty Images News/Getty Images
On Friday, Dec. 22, the president left for his holiday break to finish out what's amounted to a roller-coaster of a year. But critics on social media aren't letting him jet off to his Florida resort so easily. Tweets about Donald Trump's Mar-a-Lago trip for Christmas have been calling out the president's latest vacation.
"Per pool, Trump has arrived at Mar-a-Lago in Palm Beach, Florida," tweeted MSNBC producer Kyle Griffin. "This is his 107th day at a Trump property as president."
Part of the pushback, almost certainly, is timing. Before leaving Washington D.C., the president signed the hugely unpopular Republican tax bill into law, calling his financial stakes into question. But users were also calling out the president on the sheer number of vacations he's taken to the Palm Beach golf club — or anywhere else, for that matter — and how much it's costing taxpayers.
Though Trump once criticized Obama for taking a Christmas vacation, as Newsweek points out, the current president is doing just that. "Pres. Obama is about to embark on a 17 day vacation in his 'native' Hawaii, putting Secret Service away from families on Christmas. Aloha!" wrote Trump in a Dec. 2013 tweet. The sentiment is coming full circle as Trump has arrived in Florida for his end-of-year getaway.
He left the press high and dry.
"Trump leaves for Mar-a-Lago without holding an end-of-the-year press conference, breaking a tradition set by recent presidents," Griffin wrote in another tweet. "Trump has had just one official solo press conference this year. That was on February 16."
And in fact, it's the first time in 15 years a president has left for his holiday vacation without addressing the press, per CNN.
Dude likes his golf. A lot.
"Today when Trump arrives at Mar-a-Lago, he will have officially spent over 20% of his presidency at his golf courses, wasting $91,655,424 in taxpayer dollars on his travels to them," tweeted Scott Dworkin, co-founder of The Democratic Coalition.
For the record, while some reports have grossly exaggerated the impact of Trump's excursions borne on taxpayers, the Trumps' lifestyle way outpaces that of the Obamas, according to Snopes. While Politico estimated that one Mar-a-Lago trip ran a tab of $3 million, The Washington Post put that number closer to $2 million. (Still, two of Trump's outings a year even at this lower estimate are enough to cover the cost of a year of funding for the Interagency Council on Homelessness, the Post points out.)
The cost of operating aircraft is a huge chunk of the overall bill, which is more or less a fixed variable, and Obama's trips also came with big price tags. But Trump has taken far more trips than his predecessor in his first year in office.
To be specific, he's spent 34 days this year on Mar-a-Lago alone; his Thanksgiving trip racked up a $16 million bill, and this Christmas trip could run in the neighborhood of $30 million.
At last count, per TrumpGolfCount.com, the president has played golf 79 times on at least 37 trips this year. The site claims that the cost to taxpayers for all this recreation is $91.7 million. The New York Times reported back in April that Trump was already outpacing the two previous presidents in his golfing rate. As Griffin points out above, the president has spent about a third of his year at the Florida resort.
Santa Came Early, And He Brought Us... A Tax Bill?
Trump's Mar-a-Lago getaway came just hours after he'd signed the tax bill, for which he's been heavily criticized in recent weeks. The bill is expected to add $1 trillion to the federal deficit and will remove the individual mandate of the Affordable Care Act, potentially leaving 13 million more people uninsured over the next decade. And though he's said the tax plan won't benefit him personally — in fact, claiming he'd be losing from it — he stands to gain quite a lot, according to The New York Times.
To add to the irony, people were speculating that the president might actually sign the bill from his resort. That didn't come to pass, but the symbolism of his vacation apparently still did.
"Someone in the WH figured out that a tax bill that heavily favors the plutocracy probably shouldn't be signed at Mar-a-Lago," wrote David Alexrod, former senior adviser to President Obama, on Twitter.
I'm no expert in presidential PR, but I can only imagine it's not great optics to sign a tax bill and then dip out for your vacay. But that's just one person's opinion.