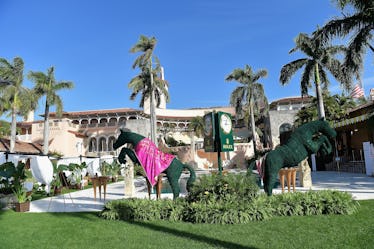 Surprise! Looks Like Donald Trump Is Spending Christmas At His Favorite Place
Gustavo Caballero/Getty Images Entertainment/Getty Images
It's the mooooost wonderful time of the year if you believe all of the songs and movies and saccharine commercials. A time for family and friends, for relaxation and hanging around the mistletoe and whatnot. And as the House and Senate have just passed their massive tax bill, it's also a time for Republicans, including President Donald Trump, to celebrate. Which is why it won't surprise to learn that the Trumps will probably spend Christmas at Mar-A-Lago.
The Palm Beach Daily News reported on Tuesday, Dec. 19 that Barron Trump, the president's youngest child, was spotted wandering around the so-called "Winter White House." And despite the fact that he was spotted wandering around solo, the 11-year-old wasn't alone, according to that same report: a Mar-A-Lago events director told the Daily News that First Lady Melania Trump is also already at the club. Which, duh, I mean, I don't know how the Trumps live their lives, but they probably wouldn't let an 11-year-old travel almost 1,000 miles by himself.
So in all likelihood, Trump will travel south to join his wife and son in time for Christmas — which, alert, is only five days away — because, you know, family? And because he has set of precedent of running away to his southern digs whenever he gets the chance, most recently for Thanksgiving. Further, the Federal Aviation Administration sent out a "VIP Movement" alert for Palm Beach through Jan. 1, meaning that at least some of the First Family will be in residence through New Year's Day.
The White House has yet to confirm the Trumps' Christmas plans, but all evidence points to a decadent palm tree-lit, tropical Christmas.
Meanwhile, we know that President Trump is still in Washington, D.C., because he spent the afternoon of Wednesday, Dec. 20 celebrating the passage of the Republican tax bill surrounded by a bunch of elected representatives. There were cheers. There was clapping. There was joy and laughter for a bill that will likely increase the deficit by more than $1 trillion.
Director of Legislative Affairs and Assistant to the President Marc Short told NBC's Hallie Jackson that Trump may sign the tax bill into law at Mar-A-Lago.
(Excuse me while I picture Trump signing an enormous bill that will change the U.S. economy in Florida.)
Need more evidence that Trump will join his wife and son? We also know that the president usually attends the Mar-A-Lago New Year's Eve shindig, according to Politico. Event tickets for this year's bash have seen a pretty healthy price hike: $600 for members, and $750 for guests. (Which likely means they're paying for a party and the chance to rub elbows with the president.)
So, all signs point to Donald joining Melania and Barron and having a balmy Christmas.
I know, shock of shocks that Trump would spend Christmas at his favorite place in the world. If he is indeed heading south for the holidays, this will be his ninth time visiting the Palm Beach, Florida golf resort since he took office in late January.
According to an NBC News tracker, Trump has already spent 34 days since his inauguration at Mar-A-Lago alone, and over 100 days at Trump properties in general. His most recent Mar-A-Lago trip over Thanksgiving cost taxpayers $16 million (not counting the cost to local police in Palm Beach), according to Newsweek. That was for a five-day journey. His Christmas vacation, on the other hand, if we take Short's word about signing the tax bill down south, will be upwards of 10 days, meaning Trump's trip could cost taxpayers more than $30 million.
Truly a great start to the fiscal responsibility we have been promised. Merry Christmas, everyone!