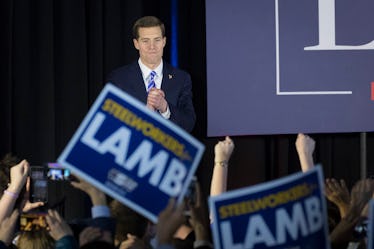 The Pennsylvania Special Election Went Down To The Wire, But Here Are The Results
Drew Angerer/Getty Images News/Getty Images
On Tuesday night, March 14, a special election in Pennsylvania for a seat in the U.S. Congress saw two candidates separated by a razor-thin margin. The race was so close that many outlets refrained from declaring who won the Pennsylvania special election. By the end of the night, however, with 100 percent of precincts reporting their vote tallies, one candidate had a clear advantage.
Democrat Conor Lamb entered Wednesday morning holding a lead of 641 votes over Republican Rick Saccone, according to The New York Times. Though Lamb claimed a slim — but clear — lead on Tuesday night, The Times along with other reputable outlets like CNN and Fox News, deemed the race too close to call.
The reason? There were still absentee ballots to be counted in a couple of counties in Pennsylvania 18th Congressional district, the four-county Pittsburgh area district for which Lamb and Saccone contested.
The tight race brought significant developments by the hour.
At about 11 p.m. on Tuesday night, the Associated Press reported that around 3,900 absentee ballots were left to be counted. At around 5:30 a.m. Wednesday morning, the Pittsburgh Post-Gazette reported that one of the counties, Washington County, had counted theirs. Lamb claimed 609 of them and 547 went to Saccone, per the Post-Gazette. At 7 a.m, Politico reported that only one county had yet to count its absentee ballots.
NBC News went further than them all. Early Wednesday morning, NBC declared Lamb, the Democrat, to be the winner of the Pennsylvania special election 18th Congressional district's seat in the U.S. House of Representatives.
Hours before NBC declared an "apparent" winner, Lamb had claimed victory for himself during a speech before supporters. "It took a little longer than we thought, but we did it. You did it," Lamb said at the Hilton Inn at Southpointe, Pennsylvania, where the 33-year-old Democrat was introduced as "the congressman-elect."
Lamb is a former Marine and federal prosecutor whose campaign was highlighted by his decision to avoid donations from corporate PACs (political action committees). Among his other notables stances is an opposition to endorsing Representative Nancy Pelosi (D-CA) as leader of the House Democrats and support for President Donald Trump's tariffs.
During his speech (perhaps premature) victory speech, Lamb's commentary did not feature a critique of the president, instead focusing on the current tone of politics.
"Our job in Congress is to attack the problems, not each other," Lamb said. "People want to be heard, they want to talks about serious things and honest solutions, not be drowned out by dark money, distorting the truth, and telling lies to our children."
Saccone, for his part, refused to concede on Tuesday night. "We are still fighting the fight," Saccone told supporters. "It's not over yet." Saccone, a Pennsylvania state senator, entered Tuesday's race with significant advantage in campaign financing, having raised over $10 million in funding.
The weekend ahead of the election, President Trump traveled to the Keystone State to campaign for the Republican candidate.
"The people of Pittsburgh cannot be conned by this guy Lamb. You just can't do it," Trump said during a rally, per The Washington Post. "He can say: 'I love President Trump. I agree with everything he says.' You know what? I don't want to meet him, because anyone who says that, I might like him."
Despite Trump having won the district by a significant margin during the 2016 presidential election, Tuesday's result now represents a sign that the president may be problematic for Republican candidates.
"The big question mark is whether the energy Trump creates can be transferred toward other candidates," Chris Borick, a pollster at Muhlenberg College, told the Pittsburgh Post-Gazette. "You're going to have lots of people questioning whether they want Trump anywhere near them this year. Already people in the Philadelphia suburbs don't want him anywhere near them. Now you may see that kind of thinking spread."
Whether similar results follow will be a storyline to watch during the 2018 midterm elections.