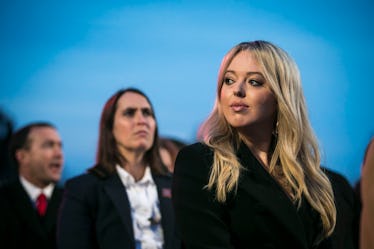 These 7 Things You Never Knew About Tiffany Trump Will Change How You Picture Her
Pool/Getty Images News/Getty Images
I can't remember the last time I checked my feeds and didn't see some member of the Trump family in the spotlight again. Whether it's President Donald Trump taking care of some presidential duties (or let's be honest, tweeting something in the wee hours of the morning) or one of his five children in the news again, they're always around. But Tiffany Trump is still somewhat of a mystery to most of us, so here are some things you never knew about Tiffany Trump.
Unlike Ivanka, Donald Trump Jr., Eric Trump, and now Barron Trump, the youngest Trump daughter didn't grow up near President Trump. Her mother, Marla Maples, and the now-president divorced when Trump was just three.
After the divorce, Maples moved her daughter away from New York City and out to Calabasas, California (same as the Kardashians, so that's a bonus fun fact for you) to live a normal life. Maples told People in 2016 that she raised Trump out of the spotlight with home cooked meals, Gilmore Girls, and a trampoline. It was apparently a pretty average childhood, despite who Trump's father was. So needless to say, Trump did not live the same super-lavish lifestyle as her siblings growing up.
So what I'm saying is that the image that you have of a Trump Kid might not be quite accurate when it comes to Tiff. Here are some things to know.