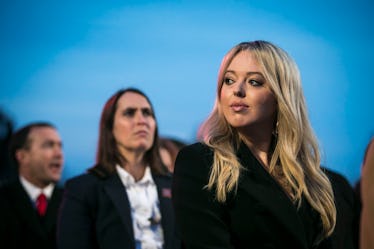 Tiffany Trump Reportedly Feels "Awkward" Around Her Dad, & I Can Sympathize
Pool/Getty Images News/Getty Images
The Trump family is known to be a pretty tight-knit group, but the different layers to their family tree definitely complicate things. Three of President Donald Trump's children came from his first marriage, and the two youngest kids are a result of his second and third marriages. Obviously, not all of Trump's kids can have the same relationship with her father. Tiffany Trump reportedly feels "awkward" around her dad, which is something I can honestly sympathize with.
According to an April 3 report from People, the supposedly already-rocky relationship Trump has with her father has become even more strained since his inauguration in Jan. 2017. Reportedly, she feels like something of a black sheep when she spends time with the Trump side of her family, which is actually pretty sad. A source that's close with Trump reportedly told People that,
Since the inauguration, Tiffany and her father have sometimes gone for months without speaking and she went a very long time without seeing him. The last time she was at a family function with him, it was awkward for her and she didn't feel totally welcome.
Elite Daily reached out to the White House for comment, but did not hear back at the time of publication.
Trump pretty regularly shows her dad love when it matters, sharing social media posts for Father's Day and for the president's birthday. But apparently the relationship is not as close as Trump might be trying to make it seem. I mean going months without speaking to a parent? I know the president has a hefty job on his plate, but I think one monthly hangout and a phone call every week or two isn't too much to ask for.
Trump does make appearances with her father, though. She was seen pretty frequently with the rest of the Trump family during the 2016 presidential campaign, and even spoke at the 2016 Republican National Convention. She was also present, along with the rest of the Trump family, at her father's first State of the Union address in January of 2018. And she recently spent the Easter holiday with her dad and family at Mar-a-Lago, and even attended mass with the president and First Lady Melania Trump. So from an outside perspective, the relationship between Trump and her dad seems to be pretty solid.
But apparently, the relationship is not as great as it may seem on the outside. That same source told People that, "They always had a strained relationship her whole life, and it got exacerbated by the presidency. It's gotten much worse now."
It's pretty understandable that the relationship is a little rocky, considering the distance between Trump and her dad while she was growing up. Trump grew up in California with her mom, the president's second wife Marla Maples, on the West Coast, while her dad lived 3,000 miles away in New York City. She was also the first sibling after the elder three Trump children to be born from a different marriage, so that must have caused some sort of tension between her and older siblings Ivanka, Eric, and Don Jr.
There's also some speculation that differing political views might contribute to tension. On March 24, Trump was spotted liking an Instagram post supporting the March For Our Lives, the gun control demonstration organized by teenage activists who have been openly critical of her father. (For what it's worth, Tiff isn't the only Trump-associated family member to express support for the march: her older sister Ivanka's brother-in-law, Josh Kushner, not only attended the march but donated a reported $50,000 to it.)
However, Trump is currently attending law school at Georgetown University, which is located in the same city as her dad's new residence. So wouldn't that mean that these two have a chance to be closer than ever, as opposed to feeling further apart?
Whatever the case may be, I'm sure that being a Trump child is no walk in the park. With all the media criticism that the Trump administration has been getting, I can't imagine how much drama the youngest Trump daughter has to handle on a daily basis. That definitely must not easy to deal with.