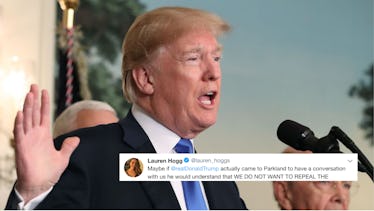 This Parkland Student's Response To A Trump Tweet About Guns Is Perfection
Mark Wilson/Getty Images News/Getty Images
In an opinion piece published Tuesday in The New York Times, retired Supreme Court Justice John Paul Stevens called for the repeal of the Second Amendment. That piece made its rounds through the news cycle into Wednesday morning, when President Donald Trump said in an early-morning tweet that the Second Amendment "WILL NEVER BE REPEALED!" Survivors of the shooting last month at Marjory Stoneman Douglas High School responded to that almost immediately, and this Parkland student's response to Trump's Second Amendment tweet is perfect.
"Maybe if @realDonaldTrump actually came to Parkland to have a conversation with us he would understand that WE DO NOT WANT TO REPEAL THE SECOND AMENDMENT," freshman Lauren Hogg replied in a tweet. "Man, and they say millennials like to complain."
Hogg added in a second tweet, "You literally spend more time about an hour away playing golf at Mar-A-Lago than in the WH. Just drive down sometime! Actually you have a helicopter, just fly down sometime! Let's talk!"
Trump tweeted the message out around 3 a.m. Wednesday morning, also taking aim at Democrats whom he claimed would love to repeal the right to bear arms.
"We need more Republicans in 2018 and must ALWAYS hold the Supreme Court!" the president tweeted.
"The president and the administration still fully support the Second Amendment," White House spokeswoman Sarah Huckabee Sanders told reporters during Tuesday's afternoon press briefing. "We think that the focus has to remain on removing weapons from dangerous individuals, not on blocking all Americans from their constitutional rights."
Hogg, along with other Parkland survivors and advocates, took issue with the president's tweet, since she has been lobbying for common-sense gun reform measures — not a repeal of the Second Amendment.
In fact, The Washington Post reported Monday that the March For Our Lives campaign's five-point policy plan for gun reform is "wholly compatible" with the Second Amendment.
In the replies to the president's tweet, many of his supporters reiterated their support for the Second Amendment and touted their gun ownership — a familiar sidestep to the actual conversation around gun control measures that don't include ripping guns out of people's hands.
Here is what the movement started by Parkland survivors is actually calling for, regardless of Justice Stevens' Times piece: