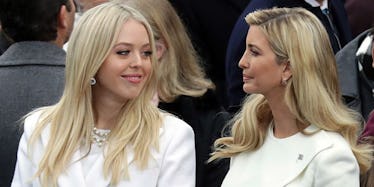 Tiffany Trump Marks First Day Of Law School With Super Basic Instagram Post
Chip Somodevilla/Getty Images
Attention everyone: Tiffany Trump has officially begun her law school career. Now, this wasn't exactly exclusive information -- her school publicly listed its start date as Monday, Aug. 28. Still, just for those who weren't in the know, Trump Instagrammed Georgetown Law's first day of school with a super basic post.
This, needless to say, is par for the course when it comes to how millennials commemorate the first day of anything.
First day at work? Take a basic selfie by your new company's logo. First day in college? Take a basic selfie of your dorm room after moving in (which, let's face it, is literally the only time it's clean during freshman year).
As for the first day at a prestigious law school, the apparent protocol is to post a picture of a desk that is perfectly coordinated to complement the university's official colors while featuring a perfectly placed cap on the side of your binder.
Ah, Tiffany Trump really is the most relatable member of the first family.
Anyway, before you get your hopes up about how similar our lives are to Tiffany Trump's, let's be clear about the fact that her basic Instagram about Georgetown Law is just about where the similarities end.
First, consider the fact that Trump's even attending Georgetown Law, which is ranked 15th nationally by U.S. News & World Report. Now consider the fact that her idea of a summer vacation was chillin' around Europe while multiple family members endured a scandal-sparked spotlight.
Then consider that this summer vacation was taken with Trump's seemingly wealthy boyfriend. So yeah, there are just a few differences between her and everyone else.
As for how she marks her first days, though, that's a different story. Like the rest of us, Tiffany Trump is clearly not above the super basic, commemorative IG picture. Good luck today!