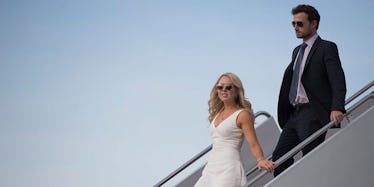 Tiffany Trump's Boyfriend Has A Familiar-Sounding Life Story
Jim Watson/AFP/Getty Images
If you know nothing about Tiffany Trump's boyfriend, Ross Mechanic, it won't take you long to catch on to who he is. That's because there's a number of similarities between him and his girlfriend's father, President Donald Trump. We can start with their alma mater, for instance.
Like Trump, Mechanic attended the University of Pennsylvania, the Ivy League institution more commonly known as UPenn. Unlike President Trump, however, Mechanic didn't attend the university's famed Wharton School of Business.
Mechanic instead studied computer science at UPenn and graduated this past spring, one year after his girlfriend, who also attended UPenn and is now starting her post-grad studies at Georgetown Law School.
There's another similarity between Mechanic and Trump. Both men were born into wealthy New York City families. Ross Mechanic is the son of 64-year-old lawyer Jon Mechanic, who is a partner at Manhattan's Fried Frank law firm. The elder Mechanic is chairman of the law firm's department of real estate, the industry in which the Trump family has made much of its fortune.
Then there's yet another similarity between Mechanic and the president. The 22-year-old is a registered Democrat, which President Trump himself used to identify as.
Mechanic's party affiliation doesn't seem to have caused any friction between himself and the administration, of course. Both Mechanic and Trump have been photographed traveling with the president (the photo above shows the pair exiting Air Force One).
Last summer, Mechanic worked as a data engineering intern at a startup co-founded by Tiffany Trump's brother-in-law Jared Kushner, husband of First Daughter Ivanka Trump, according to the New York Daily News.
Mechanic's current summer, however, seems to differ from his last. Both Mechanic and Tiffany Trump have posted pictures from what appears to have been a lengthy vacation in Europe.
Now that the vacation is over, there's no word on whether Mechanic will be joining his girlfriend in Washington D.C. as she begins law school.