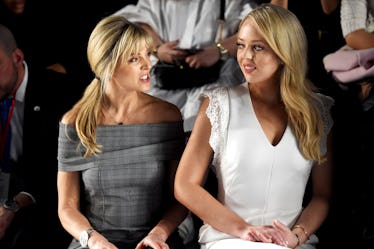 Marla Maples Clapped Back At Tiffany Trump's Haters With A Cat Picture & I Love It
Jamie McCarthy/Getty Images Entertainment/Getty Images
There's one thing for sure, you should never mess with a mom. The Trump children have been getting a lot of criticism since their father Donald Trump took office, even the relatively reserved Tiffany Trump. Huge mistake. Marla Maples clapped back at Tiffany Trump's haters via Instagram, and it's seriously the most parent post ever.
Marla Maples, the second wife of Donald Trump and mother of 24-year old Tiffany Trump, took to Instagram on April 4 to basically warn haters to leave her daughter alone. No matter how old Tiffany may get, it's clear that her mother is one protective parent, and this Instagram is proof of that. Maples posted a photo of a mother cat with a litter of her baby kittens, and added a caption that shows Maples is a mother that won't let anything happen to her baby cub.
She wrote,
Don't mess with momma cat's kittens.... oh, I am the same about mine even now 24 yrs later. I was thinking of my daughter and how I always want to protect her especially in these time's of great judgment ... when I happened upon this precious one daring anyone to harm her kittens... nature is nature and remember lifting others also lifts us. #justlovemore
Best of all? Maples tagged Tiff in the post (she's one of the kittens). Full #mom use of social media.
Then again, if I were Maples I would be protective too. It's no secret that Tiffany's father Donald Trump has been one of the most controversial figures in the public spotlight since his presidential campaign in 2016 and taking over the White House in 2017. The Trump children have also received a lot of public backlash as a result of their father, even Tiffany who's been busy at Georgetown Law School.
Even though Tiffany and her father are both in Washington, D.C., reports have surfaced that the two are allegedly not on the best speaking terms. On April 3, a source reportedly told People that Tiffany and Donald Trump's relationship has been strained since Trump's inauguration in January 2017.
The source reportedly said,
Since the inauguration, Tiffany and her father have sometimes gone for months without speaking and she went a very long time without seeing him. The last time she was at a family function with him, it was awkward for her and she didn't feel totally welcome.
It's a little surprising that Tiffany and her father's relationship is strained at the moment, especially since they're currently living in the same city. I guess random visits to the White House aren't exactly on Tiffany's agenda, but I'm not sure if I can really blame her.
It can't be easy juggling law school, strained family relationships, and frequent public criticism all at the same time. Luckily for Tiffany, she's got a protective, and very loving, mom on her side.
We might not see much from Tiffany and Donald Trump on social media, but Maples is all about showing her love for her daughter through some adorable #tbt posts.
Maples is the second wife of President Donald Trump. The two married in December 1993 and Tiffany was born two months prior to the pairs' nuptials. A few years later Maples and Trump divorced, and judging from Maples's comments about Trump in a October 1999 article in The New York Post, Tiffany is apparently the only good thing that came from that marriage.
"Donald was never the man I wanted to marry. He and his world were alien to me," Maples was quoted saying. "I'm so happy to be away from Donald, and I'm just trying to move as far away as I can."
Well, it looks like Maples is doing just that. Her social media is filled with her jetting off to glamorous cities like Los Angeles, but her visits to Alabama and Georgia prove Maples is still a Southern girl through and through.
Of course, that doesn't stop her from reminding us that she's still got one priority in mind, and that's being a mom.
Girl power, baby.