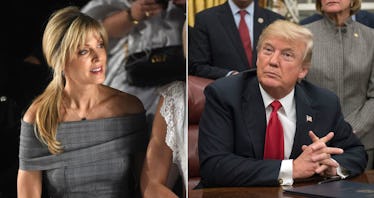 The Reason Donald Trump & Marla Maples Divorced Is So Dramatic
Jamie McCarthy/Ron Sachs-Pool/Getty Images
In October 1992, a year before she married Donald Trump, a 29-year-old Marla Maples appeared on The Oprah Winfrey Show and talked about the state of their relationship. "We're still in the journey, we're not home yet," Maples said about her relationship with Trump at the time, "we've still got a long way to go." That journey would only last seven more years, and, when it ended, the story behind why Donald Trump and Marla Maples got divorced became headline news. Maples had one child with Trump, Tiffany, who was born two months before her parents' marriage.
After their split had been finalized, Maples said that her marriage was "built on an illusion," and expressed that she and Trump were never a good match, despite what the relationship looked like on the surface. "Donald was never the man I wanted to marry. He and his world were alien to me," she was quoted as saying by The New York Post, in an October 1999 article that relayed an interview with The Daily Telegraph in London. "I'm so happy to be away from Donald, and I'm just trying to move as far away as I can."
During that same interview, Maples, who married Trump in December 1993, was also quoted by The New York Post as saying that Trump's "drug is attention" and that he's "ego-driven." "I thought that I could change him. But he won't change ... After I became a mother I was less willing to put up with his behavior," she was quoted as saying.
The Post reported that a spokeswoman of Maples' saidThe Daily Telegraph took Maples' comments out of context. The spokeswoman did not offer a specific misquote, however, The Post said.
It seems unlikely in retrospect, though, that Maples would have referred to the specific comment about wanting to "change" Trump as being taken out of context. After all, during a 2016 interview with Access Hollywood, she pretty much iterated the same point. Here's what Maples said on that occasion:
I think you always hope in a marriage that you can bring the best out in each other. But after many years, we realized we weren't. And then, you have to move on. You know girls when we're in our twenties. We want to change the men we're with, we think that love is going to make them a little softer, and you think, 'I will learn how to speak out stronger for what I believe in.' Because I'm a Southern girl and I often just smile and keep on going. But I have my own thoughts and my own views, and it's time now to express them.
"She was really a good — a good person," Donald Trump said about Maples in a June 1999 interview with Howard Stern, according to transcripts on Factbase. "You know, with all fairness, we had a great time."
In a November 1999 appearance on Stern's show, Trump agreed with Stern that he "got rid of [Maples] just at the right time" based on her appearance, per Factbase. "Let's say I'm very happy," Trump said, before entertaining the idea of Stern dating his daughter Ivanka, who had just turned 18.
During the Access Hollywood interview, Maples didn't cite infidelity as a reason for the divorce. That is a huge contrast with the way Trump's first marriage ended. The president's first wife, Ivana Trump, has said on the record that her ex-husband's extramarital affairs led to a break-up. And one of those affairs was with Marla Maples. In her latest book, Ivana Trump recalled the time during the affair as "insane."
President Trump characterized it very differently, though. "My life was so great in so many ways. The business was so great ... a beautiful girlfriend, a beautiful wife, a beautiful everything. Life was just a bowl of cherries," he told ABC's Primetime during an interview in 1994.
On the other hand, the narrative of Maples' divorce with Donald Trump — as reported across major newspapers and tabloids — generally didn't highlight cheating. In a 1997 report about Maples and Trump's split, People magazine noted that even New York gossip columnist Liz Smith didn't have much to report when the real estate mogul and his second wife separated (which came two years before the actual divorce).
Smith is the same reporter who broke the story about a high-profile, face-to-face clash between Ivana Trump and Maples in Aspen seven years prior. But on Maples and Trump's split? "I hadn't heard any rumors of a breakup," Smith told People in '97. "I wish I had. It's a great story."
It's also worth noting that, even when times were seemingly good, Maples highlighted how she and Trump were from two different worlds.
"I'm, like, of the soil, of the country, of a solid, firm belief in God," Maples told Vanity Fair in 1990. "I would be happier living out on a farm away from everyone and not being in this concrete world, and here he is representing everything that some people think is very materialistic. But sometimes you need something from someone who is completely the opposite."
In the end, it looks like what Maples says was the cause of her divorce was apparent before the marriage even began.