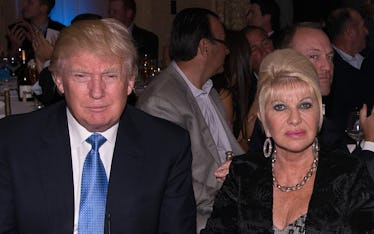 The Story Of How Trump Started Dating Each Of His Wives Will Make You Cringe
Dave Kotinsky/Getty Images Entertainment/Getty Images
To say the least, President Donald Trump's family is not like most that enter the White House. The Trumps are unique in that they were already under the spotlight before they arrived at 1600 Pennsylvania Avenue, due to their omnipresence in the media and their real estate wealth. That means that their history — from how the president grew up in New York, to how Trump met each of his wives — has been well documented.
Take the president's first wife, Ivana Trump, who, in an interview with The New York Post, talked about the moment she first met "The Donald." The year was 1976. Ivana, a native of the old Czechoslovakia, had been visiting New York for a fashion show, according to the interview.
While in New York, she visited the now-closed Maxwell's Plum, an Upper East Side establishment which The New York Times described as a "flamboyant restaurant and singles bar that, more than any place of its kind, symbolized two social revolutions of the 1960's — sex and food."
Ivana told the Post that, while there, she felt a tap on her shoulder.
"[There's] this tall blond guy with blue eyes," Ivana Trump said in the interview. "He said, 'I'm Donald Trump and I see you're looking for a table. I can help you.' I look at my friends and said, 'The good news is, we're going to get a table real fast. The bad news is, this guy is going to be sitting with us.' "
Donald Trump would eventually pay the bill at the restaurant and leave without notice, Ivana Trump told The New York Post, but when she walked outside, he was waiting for her in the driver's seat of a limousine.
"He drove us home and then we started to date," she told The Post. Less than a year later, the two got married and would eventually have three children: Donald Trump Jr., Ivanka, and Eric.
Donald Sr., however, had a well documented history of infidelity. One of the women with whom he was unfaithful was Marla Maples, who would eventually become the president's second wife.
Trump and Maples met one afternoon on Madison Avenue in Manhattan, according to a Vanity Fair feature that chronicled their love story in 1990. Trump saw Maples on the street and proceeded to ask if they had met before. "I had seen him at different places throughout the years," Maples told Vanity Fair, "and just said hello, I was just somebody he shook hands with."
The Vanity Fair piece goes on to detail how Marla Maples would frequent Atlantic City in the late 80s, where Trump did business, and, allegedly, spent time with other women. "Donald was not really very discreet about it," Roger Gros, at the time the managing editor of the magazine Casino Journal, told Vanity Fair. "He had her stay on the Trump Princess all summer except when Ivana came."
One year, during the week between Christmas and New Year's, Trump had Maples stay at a penthouse in Aspen at his invitation. Trump's family — his wife Ivana and their kids — had also been staying in Aspen. The two women's paths would eventually cross at an upscale restaurant, according to Vanity Fair, where Trump and his wife had been arguing. The arguing eventually resulted into Ivana yelling at Maples, "I have a happy marriage. I'm very happy. Stay away from him! Stay away from us!"
That "happy marriage" officially came to an end in 1992. The following year, Trump and Maples would have a daughter, Tiffany, and they married two months after her birth.
Four years later, in 1997, the two would separate, announcing in a statement, "After a long relationship and a three-and-a-half-year marriage, we have decided to separate, as friends."
The following year, Trump met a Slovenian model named Melania Knauss, during New York Fashion Week. Trump spotted Knauss at Manhattan's Kit Kat Club and approached her despite being scheduled to meet another woman. Trump recalled the moment in a 2005 interview with Larry King.
"I went crazy," Trump said. "I was actually supposed to meet somebody else. There was this great supermodel sitting next to Melania. I was supposed to meet this supermodel. They said: Look, there's so and so. I said: Forget about her. Who is the one on the left? And it was Melania."
A month after meeting her, Trump would fly with Knauss for trip to Palm Beach, where they stayed at his favorite destination, Mar-a-Lago. A friend would tell The New York Post, "She ran into Donald just at the right time. She was just about out of money, at the end of her rope and about to move back to Eastern Europe."
After two years of dating, Trump asked Melania to move in with him at Trump Tower, according to The Post. Five years later, in 2005, they were married. They have since had one son together, Barron. Twelve years after that, the crew ended up in the White House.