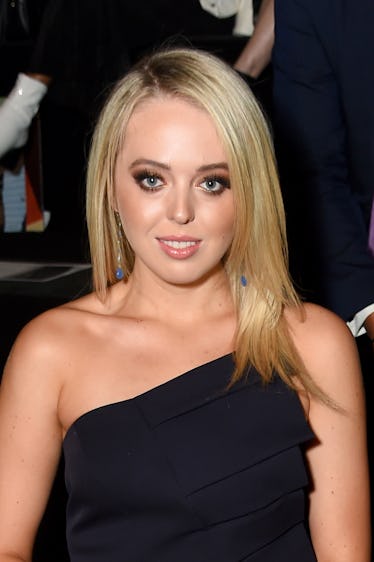 Tiffany Trump Partied With 'Playboy' On NYE While The First Family Was At Mar-A-Lago
Nicholas Hunt/Getty Images Entertainment/Getty Images
On New Year's Eve, all of President Donald Trump's children attended the annual year-end celebration at the family's Mar-a-Lago club and resort. That is, with one exception. While her dad, older siblings, and younger brother rang in 2018 in South Florida, Tiffany Trump partied with Playboy at the Culver Hotel in Los Angeles, according to Page Six.
That Tiffany Trump was away from her family on New Year's Eve isn't exactly a surprise, given her history of being away from her father and her half-siblings while the president was campaigning for the 2016 and and at key moments during his tenure in the White House. Back in July, for instance, while Donald Trump Jr. was embroiled in national controversy after released emails showed that he attended a meeting with a Russian lawyer in search of damaging information about Hillary Clinton, Tiffany Trump was enjoying a vacation in Europe.
Before the new year, though, Tiffany and Ivanka Trump did spend time together and had the Instagram post to show for it, which showed them sunbathing together at Mar-a-Lago. Despite the snap with Ivanka during Christmas time, Tiffany would ultimately be across the country from her older sister and the rest of the family come New Year's Eve.
She chose instead to go to Playboy's black-tie party. There, the president's second daughter was snapped in a photo with British actress Scarlett Byrne, who was featured in the Harry Potter film series. The picture was taken by Candace Jordan, who was Playboy's Miss December in 1979.
The Playboy black-tie party is thrown annually on New Year's. 2017 marked the publication's first New Year's party since the death of the magazine's founder, Hugh Hefner. This year, the party was hosted by Cooper Hefner — Hugh Hefner son's, who took over as chief creative officer at the magazine after his father's death.
Over 2,500 miles away from the Playboy party, the rest of the Trump family enjoyed the annual New Year's Eve party at Mar-a-Lago, which featured a four-course meal and a live cover band.
There, President Trump addressed attendees, who paid a hefty price to get into the event, promising them a successful new year and a defeat of enemies. "We're going to have a great 2018," the president said, per CNN. "It's going to be something very, very special. It's all kicking in. We have some pretty good enemies out there, but step by step they're being defeated. They're some bad people. Bad people. But that's ok. Someday maybe they'll love us. I don't know."
There was presumably less political talk at the Playboy event, where Tiffany Trump appeared in multiple photos with different friends.
Despite Tiffany Trump's history of being the lone member away from her family — which, let's face it, totally makes sense when you consider her age — the 24-year-old won't be too far away from her father, her younger brother, or Ivanka Trump for much longer. The spring semester for Georgetown Law School, where Tiffany has taken on her graduate studies, is scheduled to begin on Monday, Jan. 8.
When Tiffany returns to Georgetown's Washington D.C. campus, she will have done so having already spent time with her mother, Marla Maples. Three days before Christmas, Maples shared an Instagram post of her and her daughter sharing a "sweet and cozy" time together, taking part in what seemed to be a gift exchange.
Maples is President Trump's second wife, whom he married after divorcing his first, Ivana Trump. The second marriage followed a publicized and dramatic episode that saw Ivana confront Maples during a holiday vacation in Aspen.
Tiffany Trump is the president's only child with Maples.