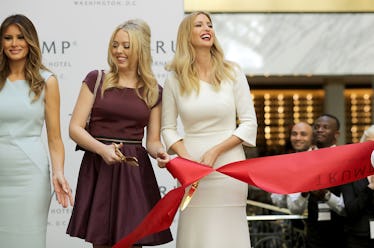 Tiffany Trump's Christmas Instagram With Ivanka Trump Is Pretty Nontraditional
Chip Somodevilla/Getty Images News/Getty Images
Even though Christmas Day has already passed, it's definitely not too late to send out some last minute holiday wishes. And that's exactly what the youngest Trump daughter, Tiffany, decided to do via social media on Dec. 26. But although the overall holiday sentiment of her post was there, I couldn't help but notice that it seemed a little, well — off. Tiffany and Ivanka Trump's Christmas Instagram definitely isn't what we'd call a traditional holiday post by any means, but hey, you do you.
The day after Christmas, Tiffany Trump shared her holiday wishes with the rest of the world via Instagram and Twitter by posting a video wishing everyone a Merry Christmas, accompanied by her half-sister Ivanka. Posting holiday wishes is definitely appreciated, for sure. But the post Trump decided to share is a little more spring break than it is traditional Christmas greeting.
Trump apparently decided to spend her Christmas this year with President Donald Trump and the rest of the first family at the so-called Winter White House, Mar-a-Lago, for the holidays this year. In the video, Trump and Ivanka are laying out in the sun at what we can probably assume is their Mar-a-Lago residence, with Tiff wearing a bathing suit and enjoying the warm weather. The sisters make kissy faces and are all smiles under a Snapchat angel filter, while holiday music plays. Trump wishes her followers a "Merry Christmas" at the very end of the video, which was captioned with a snowflake emoji and her sister's Instagram and Twitter handle.
When I think of Christmas social media posts, I usually think of group family or sibling photos around the tree with their presents, or gathered at the dinner table. I don't necessarily think to post a swimsuit selfie video to Instagram as my overall main Christmas social media post.
Also worth noting is the music that's playing in the background, which is a rendition of "O Holy Night" sung by Ellie Goulding, according to my Shazam app. I don't exactly think of "O Holy Night" as a song I'd like to listen to while lounging out in the sun. Trump also decided to post the Instagram on Dec. 26, a day later than actual Christmas Day. So yeah, overall the entire post just seems a little out of place.
But strangeness aside, it looks like Trump is thoroughly enjoying her holiday in the sun. Prior to jetting down south, Trump had a little bit of an early Christmas celebration with her mother, Marla Maples. Maples took to Instagram to share the holiday festivities they shared just a couple of days shy of Christmas Day, posting a photo of mother and daughter in matching outfits opening presents and smiling. The image was captioned, "Sweet and cozy pre-Christmas moments with my girl."
According to The Daily Mail, Trump was spotted arriving at the Palm Beach International Airport at about 1:30 on Dec. 22, apparently heading to join the family at the resort. Secret Service members were in tow to escort her to Mar-a-Lago.
Why is it important to mention the Secret Service members that are required to travel with the family? Because bankrolling them for their services, along with all the other costs that come with sending the Trump family to Florida for vacations, is incredibly expensive. According to Newsweek, the Trump's family trip to Mar-a-Lago this Thanksgiving cost an estimated $3.6 million. And where does this money that finances their travel costs come from? You guessed it, American taxpayers. So while it's nice that the Trump sisters are enjoying themselves for the holiday, I can't help but think about what the trip is costing the American people.
But costliness aside, I'd never wish for anyone to spend their holiday in bad spirits. It sure looks like Ivanka and Tiffany Trump are thoroughly enjoying theirs.