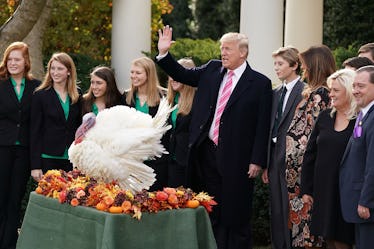 Donald Trump Is Spending Thanksgiving Far Away From The White House
Chip Somodevilla/Getty Images News/Getty Images
While most of America waits to the end of Wednesday to begin their vacation from the office, President Donald Trump has already nestled in at his favorite spot. On Tuesday, for the first time since April, the president returned to his favorite destination, the Mar-a-Lago resort in Palm Beach, Florida. But while we know where the president is, the answer to exactly what is Donald Trump doing for Thanksgiving isn't exactly clear, at least not all the time.
Take this back-and-forth of updates on the president's activities, for instance.
Back: On Wednesday morning, Nov. 22, the president tweeted that he "will be having meetings and working the phones from the Winter White House in Florida (Mar-a-Lago)."
Forth: Later that morning, deputy White House press secretary Lindsay Walters told the reporters that the president would be having a "low-key" day, and the press pool that follow Trump reports it accordingly.
Back: The White House asked for a correction to the pool reporting that the president would have a low-key day, and the pool sent this update: "While the White House communications staff expects the press pool to have a 'low-key day,' the president will NOT have a low-key day and has a full schedule of meetings and phone calls."
Forth: The president, as if it's a low-key day, went to the golf course.
The president's arrival in Florida was much more easier to track than his first full day, though. On Tuesday night, President Trump, First Lady Melania Trump, and their son Barron Trump arrived at Palm Beach International Airport around sunset to cheers from over 100 supporters, the Palm Beach Post reports. The president then spent around 18 minutes interacting with the crowd; signing autographs and shaking hands.
"He let me kiss him on the cheek. How do you like that? It was fabulous," one supporter told the Palm Beach Post.
Local news footage embedded in the video below captures Trump's arrival in Palm Beach.
A separate group of over 300 people also tried to meet the president upon his arrival, but not to cheer him on. The group was marching to Mar-a-Lago to protest Trump's decision to end Temporary Protected Stats (TPS) for around 60,000 Haitians in the United States who were granted temporary residency after a massive earthquake struck the Caribbean nation in 2010.
The decision gives Haitians under TPS 18 months to leave.
And organizer for the march in Florida told the Palm Beach Post that, despite being intercepted by police, the gathering was still a success. "I think this was one of the most high-profile actions today in reaction to TPS," spokeswoman Rachel Gumpert told the paper. "I hope (Trump) takes some time to reflect on what this will mean to the 50,000 Haitian families that will be impacted by this."
While it's not certain what else President Trump will be doing for the rest of his trip in Florida — whether that's more golf or actual meetings and calls — he's certain to mix it up with members at the Mar-a-Lago, at least according to a friend of his.
"The president thrives on the interactions he has with guests, friends and members, and I'd be surprised if that didn't continue in some way," Newsmax CEO Chris Ruddy, a member at Mar-a-Lago who is friendly with Trump, told Politico.
Trump's presence at Mar-a-Lago will mean more inconvenience for those members, though. People who attend the club have already been advised about extra wait time to get through security, limits on guests and restrictions on dinner reservations, Politico reports.
"We plan not to be there when he's there. When he's there, it's a mess," one club member told Politico.
One person who definitely will be there is President Trump, though, either taking "meetings" or playing golf.