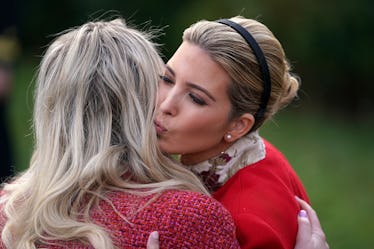 This Christmas Throwback Pic Of Tiffany & Ivanka Trump Is Pretty Cute TBH
Chip Somodevilla/Getty Images News/Getty Images
Families are complicated. When someone is part of a blended family from multiple marriages, feelings can run high. But Christmas is a time of forgiving, remembering the good times past, the happier days, and putting aside whatever feuds there may be in the present. Such is the case in the White House, where ex-wives may snap at each other and step-siblings are rumored to hate each other. But this throwback Instagram of Tiffany and Ivanka Trump, posted by Donald's second wife Marla Maples, reminds us that we don't know the whole story.
Tiffany Trump, as the only daughter from Donald's second marriage, is in an different position than her half-siblings. Donald's oldest kids, his sons and daughter with his first wife, Ivana Trump, all work for The Trump Organization or in the White House. Donald's youngest kid, his son Baron Trump with his third wife, Melania Trump, is only 10. As a minor, he's therefore sheltered from the press. (Quite rightly, too.) But Tiffany is college aged, an adult in her own right. She also grew up in California, away from her half-siblings on the East Coast, partly by virtue of her mother's messy divorce from her father. This has lead to endless speculation about her role in the family, including running jokes how she's really the smartest Trump who will take them all down from the inside.
But the truth is much more convoluted. According to Vanity Fair, Tiffany looks up to her older half-sister Ivanka, and hopes one day to be able to emulate her success. And looking at the photos Maples posted, it seems that might just be true.
Caption:
Santa sure was always so sweet to me & Tiff. 🎅🤶Both of us working a look at 8yrs old & Tiff wins !! 👯‍♀️💜 more fun Christmas mornings to follow from Ga to NYC with 2 loving sisters... Tiff and Ivanka. Wishing so much joy and precious Sacred moments to all of you.
There's three throwback photos, if you scroll down Marla Maple's memory lane. The first, with the guitars, is Marla and Tiffany both at age eight, showing how alike they were at Christmas time. The second looks to be Marla as a child, with a play horse.
The third is the photo that's the most interesting. It's a match in age and subject to the second one, showing Tiffany at that same age also getting a toy pony. But unlike Marla's toy pony, Tiffany has the Cinderella version. She's sitting on a marble floor with Ivanka, and the half-sisters are playing with it together.
What does that tell us about Ivanka and Tiffany's relationship? Well, despite the rumors that Ivanka "hates" Tiffany, and according to Newsweek, even tried to bump the girl out of the family fortune, it's not really that simple. Ivanka isn't some evil step-sister trying to do away with her Cinderella sibling. In the photo she looks like your typical teenager who wants to teach her younger sister how to properly play with the toys she's gotten for Christmas.
Moreover, Tiffany isn't being somehow shut out of the Trump circle, plotting her revenge from afar. (Or, well, just the other side of the city, at Georgetown Law School, where she's currently attending university.) In fact, Tiffany got to have Christmas twice this year, in order to join the Trump clan down in Florida at Mar-a-Lago.
Caption:
Sweet and cozy pre-Christmas moments with my girl.
The Instagram above shows the first round with her mother, celebrating Christmas a few days early, before she joined the other half of the family. Typical blended divorced kids stuff that actually a lot of us can probably relate to... Just like Ivanka, hanging out with her kid half-sister as a teen at Christmas.