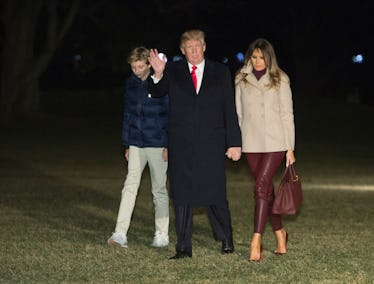 Trump Rang In 2018 At Mar-a-Lago & The Celebration Looked Classy AF
Pool/Getty Images News/Getty Images
On Monday night, Jan. 1, President Donald Trump and his family returned to Washington D.C. after a 10-day holiday break in South Florida. The president didn't leave, though, before hosting a lavish party to ring in 2018 at his Mar-a-Lago club and resort in Palm Beach. Now, photos of Trump's New Year's Eve party show just how classy of an event the president enjoyed before going back to the White House.
Trump's year-end bash at the "winter White House" featured notable guests like baseball legend Keith Hernandez, Fox News Business host Lou Dobbs, and the president's treasury secretary, Steve Mnuchin, according to The Palm Beach Post.
Then, of course, there were Trump's eldest children. Ivanka, Eric, and Donald Trump Jr. were all in attendance, along with Trump son-in-law and senior adviser, Jared Kushner. All of the guests at Mar-a-Lago's New Year's Eve party entered down a long red carpet into the high-profile event, which is where many of the photos of them at the party were snapped.
Inside the actual event, attendees enjoyed a four-course meal that includes a Maine lobster and the eponymous Trump Iceberg Wedge salad. Meanwhile, guests were also treated to a performance of the cover band Party on the Moon. The event came at hefty entry price, though.
Mar-a-Lago members were charged $600 for the annual New Year's Eve bash, while guests of members had to pay $750. Those fee marked a significant increase from the previous entry fee, which was $525 for members and $575 for guests.
For however pricey the tickets to Mar-a-Lago's event were, they were nowhere near as costly as what Melania Trump wore to the event. The first lady was draped in a pink Erderm dress with an original retail price of $5,500, according to Glamour. If you want it now, however, you can get it for the low, low price of $2,200 (no big deal).
The first lady's dress made for one great look at the New Year's Eve celebration and, most importantly, one very funny tweet.
Guests didn't leave Mar-a-Lago's event without remarks from the man of the hour, President Trump himself. In an address to attendees, the president touted his presidency and promised a great new year.
"We're going to have a great 2018," Trump told the crowd at Mar-a-Lago, per CNN. "It's going to be something very, very special. It's all kicking in. We have some pretty good enemies out there, but step by step they're being defeated. They're some bad people. Bad people. But that's ok. Someday maybe they'll love us. I don't know."
Trump's reported comments at Mar-a-Lago just a bit of a different town from a message he sent out earlier in the day, via Twitter. On the morning of New Year's Eve, the president dedicated a special post to wish good tidings to all Americans, including the "haters" and "very dishonest Fake News Media."
"As our Country rapidly grows stronger and smarter, I want to wish all of my friends, supporters, enemies, haters, and even the very dishonest Fake News Media, a Happy and Healthy New Year. 2018 will be a great year for America!"
Now that Trump is back in Washington D.C., he will return to a workload that include major priorities that require urgent solutions, like the threat of yet another potential government shutdown. Meanwhile, since he's away from his vacation spot, he probably won't have to hear anymore about how much he golfs, though a close friend of his says it doesn't bother him anyway.
"Donald Trump knows that he will not be measured on how much time he spent here," Chris Ruddy, CEO of Newsmax media, told The New York Times. "He will be measured on the results, and be judged on how the economy has done and how he's protected the security of the country."
We'll see what results 2018 brings.