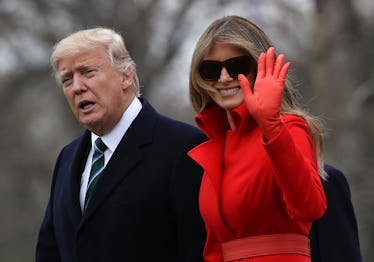 If You Want To Ring In The New Year With Donald Trump, It Got More Expensive
Justin Sullivan/Getty Images News/Getty Images
In case you still haven't made plans for where you'll be when the ball drops, and you're afraid that whatever choice you go with now will be too expensive, you can definitely take solace in one fact. Whatever you do is unlikely to be as costly as spending New Year's Eve at Mar-a-Lago, President Donald Trump's favorite destination. But spending New Year's Eve at the "Winter White House" — as it's been called since Trump's inauguration — does come with an added plus for those who'll be in attendance: ringing in 2018 with the president.
For members of Mar-a-Lago, that means paying $600 for the resort's annual New Year's event. Members' guests, meanwhile, will have to pay $750. Both rates are seeing increases from New Year's Eve 2016, when Mar-a-Lago charged members $525 and members' guests $575, according to Politico. For that price, attendees get a multi-course meal and a performance from cover band Party on the Moon.
Despite New Year's Eve being over a week away, Trump headed to Florida — where his Mar-a-Lago club is located — on Friday, Dec. 22, The Sun-Sentinel reports. That's because the president plans to spend both Christmas and New Year's Eve away from the White House, just as many politicians away from Washington D.C. plan to do.
That Trump will be in South Florida for the holidays is no surprise, though. The president also spent Thanksgiving at his Palm Beach resort (did we mention it's his favorite destination?). The Federal Aviation Administration has already issued and advisory in lieu of Trump's arrival, warning that there will be flight restrictions between Friday, Dec. 22, and New Year's Day, The Sun-Sentinel reports.
Just don't call the trip a vacation. When Trump last went to Mar-a-Lago, for Thanksgiving, he went out of his way to counter reports that he was taking time off from work.
"Will be having meetings and working the phones from the Winter White House in Florida (Mar-a-Lago)," the president tweeted. "Stock Market hit new Record High yesterday - $5.5 trillion gain since E. Many companies coming back to the U.S. Military building up and getting very strong."
Before he travels to Florida this time around, Trump had a lot to do. The president officially signed the Republican tax bill, making his party's reform efforts law. Even more important, certainly for the immediate future, is a new spending bill. The deadline for Congress to agree on a budget to send to the president desk was midnight Friday, Dec. 22. The president, however, signed a new funding bill that will fund the government for about a month.
Once Trump returns to Washington, he'll have even more to deal with. He'll have to work with his Republican-led Congress to address health care issues. Plus, since the funding bill that Congress passed is only temporary, he'll have to worry about more budget talks in January.
In the meantime, though, Trump will likely be celebrating the GOP tax bill — or, as he likes to call it, "the biggest in history Tax Cut and Reform Bill" — and its successful passage through Congress, which he's had no problem doing on Twitter.
"The Tax Cuts are so large and so meaningful, and yet the Fake News is working overtime to follow the lead of their friends, the defeated Dems, and only demean," the president tweeted on the day the bill passed through Congress. "This is truly a case where the results will speak for themselves, starting very soon. Jobs, Jobs, Jobs!"
Whoever wants to join him in celebration will get do that at Mar-a-Lago on New Year's Eve, albeit at a steep price.