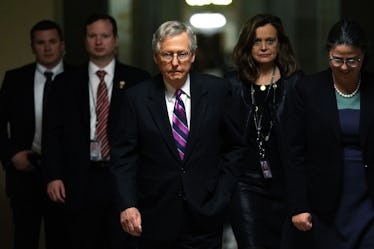 Congress Avoided A Government Shutdown Again, But Only For Another Month
Alex Wong/Getty Images News/Getty Images
With just hours remaining before yet another deadline to avoid a government shutdown, the Congress passed a stopgap spending bill on Thursday night, Dec. 21. The bill will keep federal agencies open and providing funding for government-run programs, while giving Democrats and Republicans more time to work on a long-term funding bill that will last for the rest of the fiscal year. The House first passed the bill, and then the Senate, within a two-hour span on Thursday evening.
The timing of the bill's passage means that Congress cleared the Friday, Dec. 22, deadline to avoid a government shutdown by about five hours. The bill is only a stopgap measure, however, because it merely funds the government until January 19. That means that shortly after the start of 2018, after Congress and the president return from their holiday recess, the politicians will have to go back to negotiating for a funding bill that will last for the rest of fiscal year.
"I guess we better recharge our batteries," Senator John Cornyn (R-TX) said about the fact that Congress will have to negotiate again in a month, per The New York Times. "It seems like Groundhog Day. We get up and do the same thing over and over and over again. It's maddening."
The stopgap measure has also been described as a "clean" spending bill because it continues funding the government in ways that Congress has already agreed upon, and does not including any new measure related to highly debated issues that Democrats and Republicans are still working on (like the Deferred Action for Childhood Arrivals, aka DACA).
House Speaker Paul Ryan (R-WI) further explained the nature of the bill during a Thursday morning appearance on CNBC. "We're just bringing a clean, what we call vanilla CR — no games, no sneaky things," Ryan told Squawk Box. "Just a continuing resolution to get us through this moment to get us into next year. It's as clean and simple as possible."
Ordinarily, Congress would agree on a spending bill for a full fiscal year by coming to a deal at the end of the last fiscal year (which came in September). However, when it was time for Democrats and Republicans to negotiate on budgets talks in December, President Donald Trump sided with Democratic leaders Nancy Pelosi, the House minority leader, and Chuck Schumer, the Senate minority leader.
Republican leaders — namely Speaker Ryan and Senate Majority Leader Mitch McConnell — wanted to agree on a long-term extension of the debt limit, which would last have lasted for 18 months. Republicans also wanted a long-term funding agreement. Democrats, however, wanted a three-month agreement for both the debt extension and funding, and the president agreed. The agreement between Trump and Democratic leaders would come to be known at the president's deal with "Chuck and Nancy," which Trump made despite the wishes of close advisers and GOP leaders.
The three months for funding that were agreed upon in September came to and end on Friday, Dec. 14, which means Congress had been facing yet another deadline that could lead to a government shutdown. A day before that mid-December deadline, however, Congress passed an even shorter stopgap spending bill, which lasted just two weeks.
Those two weeks, in turn, came to an end on Friday, Dec. 22, which bring us to the latest temporary bill. Congress has avoided yet another potential government shutdown, but only for about a month. That means that after the new year, Democrats and Republicans will be back at the table again, trying to come to an agreement before facing a third deadline in just under two months.