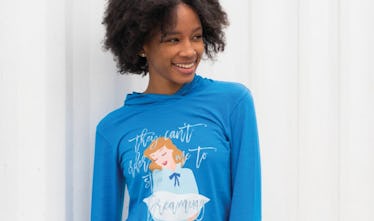 10 Disney Loungewear Pieces That'll Update Your Cozy Selfies At Home
With a variety of Disney movies to stream and cozy blankets calling your name, there really is no reason to change out of your loungewear. The necessities for peak coziness are a comfy pullover and sweatpants. Luckily, women's Disney loungewear includes all of that, plus an extra bit of pixie dust that's crucial for capturing magical selfies.
If you're hanging out at home, you might as well be cozy AF. As a Disney lover, you might want to consider getting any of these 10 Disney loungewear items to update your closet. There are so many opportunities to wear Disney loungewear. When you're watching The Little Mermaid with your besties, it just seems appropriate to sport a matching Ariel sweater. While you're enjoying some of your favorite Disney Parks' food at home, you can wear matching Disney World sweatpants and a hoodie.
It'll be like you're at your favorite Disney theme park without actually leaving your couch. When you're dressed in your Disney lewks, make sure to snap a super cute selfie. You can even grab your fave pair of Mickey Mouse ears, or use an Instagram filter that matches your vintage Mickey sweater to bring everything together. Then, get right back to having a "hakuna matata" kind of day.