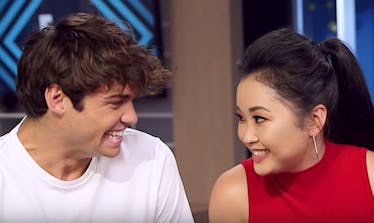 Here's A 3-Minute Video Of Noah Centineo & Lana Condor Flirting, So Prepare Yourself
My new morning routine is I wake up. I make a cup of coffee. I daydream about what Noah Centineo and Lana Condor are doing together. I Google what Noah Centineo and Lana Conor are doing together. Then, I obsess over what Noah Centineo and Lana Condor are doing together. Pretty straightforward. That's why I know that, most recently, they popped by E!'s "The Run Down" and were giving off their usual adorable vibes as they played a series of flirtatious games. The video of Noah Centineo and Lana Condor flirting is guaranteed to help kick-start your day in a great way, and I can't recommend it enough.
If you haven't been paying attention to all of the delicious To All The Boys I've Loved Before news, then let me enlighten you. Stars Noah Centineo and Lana Condor play love interest Peter Kavinsky and Lara Jean in the film rendition of author Jenny Han's award-winning young adult book of the same name. They're also the most fun celebrity duo fans are shipping this year. While both actors maintain they aren't an actual romantic item in real life (in fact, Condor has a boyfriend) their chemistry on and off set is truly undeniable. They also love to gush about each other and are regularly filmed singing each other's praises.
During their appearance on "The Run Down," fans are gifted essentially two and a half perfect minutes of Centineo and Condor flirting with each other. Oh yeah, "The Run Down" host, Erin Lim, was there too. Lim asked Condor and Centineo to participate in a series of games that were actually pretty sexy by nature. The results were awesome.
First, they were asked to give their advice on how to approach one's crush. Condor explained, "This whole entire experience has made me realize you just have to tell people how you feel when you feel it."
Lim followed up by asking, "So you think I should just walk up to a random person I've been crushing on and say, 'Me, you, forever. What do you think?'"
Both Condor and Centineo agree that the word "forever" might be too strong, but the simple pick up line, "Me, you. What do you think?" is actually kind of awesome. It's equal parts confident, sexy, and harmless.
From there, they were given a list of traditionally gross words and behaviors and asked to say or make them as sexy as possible. Obviously, they both hit it out of the park. Centineo even ended up biting Condor's nails FOR her, which should have been disgusting, but it actually didn't bother me at all.
Centineo also said the words "phlegm," "curd," and "mucus," in a husky voice while making prolonged eye contact with the camera. I was not mad about it. Condor breathily stated words like "moist" and "panties" and it also made me sweat. There's nothing these two can't do, Y'all.
Take a look.
Even if Condor and Centineo aren't in love love, their friendship is enough to carry me through rainy days. Truthfully, few things are as awesome as young actors being able to maintain a healthy, platonic friendship without getting all WEIRD about everything.
Noah, Lana, you can call me and whisper "curd" any day.
*sips coffee*