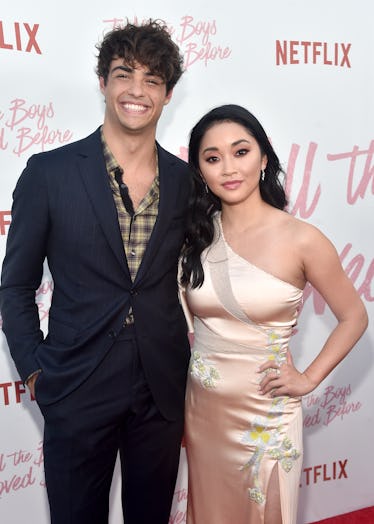 Noah Centineo's Quotes About Lana Condor Will Make You Wish Their Movie Romance Was Real
Alberto E. Rodriguez/Getty Images Entertainment/Getty Images
If you're like me, you've not only watched To All The Boys I've Loved Before, but you've harbored a pretty healthy crush on Peter Kavinsky, the charming and lovable heartthrob played by actor Noah Centineo. You've also probably Googled whether or not he and co-star Lana Condor, who plays Lara Jean, are dating in real life, because their chemistry is off the charts. Unfortunately, the two aren't in a relationship (Condor is actually in a long-term relationship with another actor), but that doesn't stop anyone from desperately wishing that these two would just get together already. And, considering that both Noah and Lana have openly admitted that they have crushes on each other, it makes everything all the more difficult to accept that they're not head-over-heels in love. So I'm going to do everyone a favor and rub salt into your wounds by showing you all of Noah Centineo's quotes about Lana Condor, because if I'm going to obsess over something, you know damn well that I'm going to try and take everyone down with me.
1. When Noah Centineo called Lana Condor the "love of his life."
After his appearance at VidCon, Noah took to social media to thank everyone at the event, but most importantly, he gave Lana the ultimate shoutout. He said,
Thank you guys for such an amazing day at VidCon, I had an incredible time. Lana Condor, you are the love of my life — you did, we did ... all of us, the whole team — Awesomeness, Netflix, thank you everyone so much for the opportunity.
Oh, so now we're just casually inserting the sentiment of calling someone the love of your life in video form? Cool, cool, cool.
Also, if you just look at his facial expression when he's talking about her, it basically looks like the human version of the heart-eyes emoji, and I think that's beautiful.
2. When Noah called Lana a "goddess."
Everyone deserves a man who throws their lady compliments left and right, and luckily for Lana, she gets that with Noah — even though he's not technically her man (yet).
In an interview with BriefTake back in August, Noah was describing his co-stars, Lana Condor and Shannon Purser (whom he worked with in the upcoming Netflix film Sierra Burgess Is a Loser), and said, "they're both goddesses walking on this planet" adding that they were both "so smart."
Swoon.
Speaking solely about Lana though, he said:
Working with Lana in Vancouver was just incredible because we would just hang out all the time. When you come from L.A. and they move you to a different country to work, you really stick together with your cast mates.
Oh, they stuck together alright. Wink, wink.
3. When Lana "sealed" the deal for Noah to take the part of Peter Kavinsky.
I honestly can't think of a better person to play Peter Kavinsky (and there could probably be one person who would have played Lara Jean better, and that person is me). But imagine if Noah never took the part?
In an interview with Vulture, he called the story "endearing," but it was when he met Lana that he knew he simply had to play the role. He said,
I thought the story was really endearing, this idea of not being afraid to love in the first place or love again. If we learn how to love again after having your heart broken, it's one of the greatest lessons on earth. And then I met Lana and it was sealed! I had to be a part of it.
And we are so, so glad you did, Noah, because now we all have this:
This scene will forever be a classic in my mind.
4. He loves studying Lana's "little facial expressions."
There's something about a guy studying the intricacies of a girl's face that will always be sexy. And Noah has spoken at length about how much he loves Lana's facial expressions, which I find absolutely enthralling. In the same interview with Vulture, he said that the chemistry between them "just flowed" and "felt very natural," but it was Lana's expressions that really did him in. He said,
Lana does these reactions throughout the movie, like little facial expressions, and I think they are so hilarious. I remember seeing her face and poking fun at that and being like, "What is that!" Like, "What is this face you are doing?" The judgy-face line in the film, that was improv-ed from the chemistry read.
I think he's talking about the little moments like this:
More like, "yup."
Similarly, in a video interview with YSBnow, he gushed yet AGAIN about Lana's face. "And Lana Condor, god damn, I don't know what we can say, but like, she's so talented, dramatically and comedically," Noah said, adding, "In To All The Boys I've Loved Before, my favorite part of the film, is that she has these little isms, these little facial expressions, throughout, and it's just her reactions, and I could watch those all day. She's so good."
Could he sound any more in love with her? You can watch the whole thing below, but skip to around the 1:30-minute mark if all you want to see is Noah crushin' on Lana.
5. All of Noah's flirty comments on social media aimed directly at Lana.
While they're not direct quotes about Lana, Noah sure as hell makes it known that Lana plays a huge role in his life all over social media.
Take this exchange, for example, when Noah tells Lana that she has "all of him":
Or how about a photo that he uploaded to Instagram of him and Lana, captioning it, "She melts my heart"?
CAN THEY JUST GET MARRIED ALREADY?!
I'm going to leave you all with this one last thing — maybe I'm reading into it a bit too much, or maybe I'm not. But this video that Noah posted on his Instagram shows the co-stars working out together, which is no big deal.
But towards the end, Noah collapses on the floor close to Lana, then looks over to her and REACHES OUT HIS HAND, HOPING THAT SHE SEES AND REACHES HERS OUT TOO:
Like I said, maybe it was all just coincidental timing, but... I think the f*ck not.
So there you have it. Proof that Noah Centineo and Lana Condor should probably realize that they are soulmates and go live happily ever after, making the lives of fans everywhere complete.