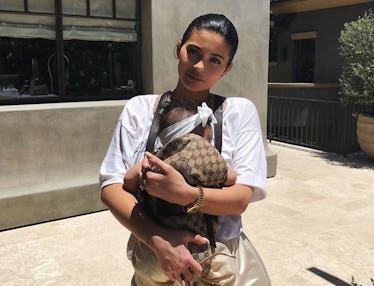 Kylie Jenner Took Stormi To Buy Her GQ Cover For The Cutest Mother-Daughter Moment
Kylie Jenner might be a household name with 112 million Instagram followers and counting, but her biggest fan is definitely closer to home. While the rest of us are busy Keeping Up with the Kardashians, Baby Stormi has been keeping up with her mom's every accomplishment in the past five months, and it's goals. ICYMI, the 20-year-old new mom has been killing it with a slew of magazine features recently, and this video of Kylie Jenner and Stormi buying her GQ cover proves that her daughter is already her number one supporter.
On Friday, July 27, Jenner took a "mommy and me" shopping trip to the next level as she perused a magazine section in Los Angeles with her newborn daughter and her BFF Jordyn Woods. If you're wishing you had an invite to this super-exclusive expedition right now, you're in luck. Like the social media maven she is, Jenner posted the whole experience on Snapchat, so all of her followers could feel like they were hanging out with 5-month-old Stormi and getting makeup tips from the youngest member of the KarJenner clan. Honestly, who wouldn't want to be a third wheel with this duo?
While browsing the rack of magazines, the entrepreneur decided to purchase the lot of her August GQ covers, where she can be seen posing alongside Stormi's dad, rapper Travis Scott. With her firstborn daughter in her arms, Kylie can be seen reaching for a stack of the magazines and turning towards the cash register. You also get a peek of the tot's face, which is notable as Jenner recently deleted all front-facing images of her baby from social media.
Jenner didn't stop at her GQ covers. The reality star also grabbed a stack of Forbes' August magazines which highlight her as their cover star. You know, because she's just shy of being a billionaire, NBD. In the Snapchat clip, Kylie — who donned a black crop top and black pants for her Friday outing — can be seen flashing the Forbes issue that applauded her for being one of the most successful self-made women.
They even take mama-'n-me sidewalk cruising to the next level, and it's so cute.
It's safe to say that life is good for the 20-year-old, and in addition to her accomplishments, it looks like she's also hard at work being a good role model for her mini-me. While it might be hard to follow in the footsteps of a mom that's on track to be a billionaire at such a young age, Stormi seems to have her mom's knack for a strong social media presence. ICYMI, Baby Webster is seriously adorable, and people were genuinely upset when the makeup maven purged her social media of all things relating to her bundle of joy.
Luckily for us, it looks like Baby Stormi is still making appearances on Jenner's Snapchat (I'm still aww-ing over that precious video of the infant getting "tummy time," tbh), so I'd head over there if you want to see your daily dose of cuteness dressed up in a pastel pink onesie.