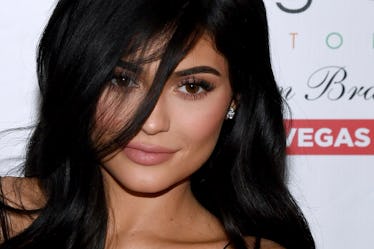 This Might Be Why Kylie Jenner Deleted Her Pics Of Stormi & It Makes So Much Sense
Ethan Miller/Getty Images Entertainment/Getty Images
Alright, stop panicking. I know you've been a nerve-ridden mess ever since you realized that Kylie Jenner scrapped most of the pics of her daughter from her Instagram page, but it's looking like she might've done so for a good reason. So, why did Kylie Jenner delete her photos of Stormi? *sigh* The rumored answer really might break your heart.
Considering Jenner spent majority of her pregnancy out of the public eye, fans have been more than thrilled to see all of the glimpses the new mom has shared of her life post-baby since she welcomed Stormi back in February. But seemingly out of nowhere, on June 10, Jenner deleted all the IG pics showing her daughter's face, sending fans into a complete frenzy. And unfortunately, we might not see any more pics of Stormi any time soon, because the reported reason for Jenner's change is that some social media users had been making "nasty comments" about Stormi, according to People.
When talking about the reason behind the deleted pics on June 12, a source reportedly told the publication:
Kylie felt so protective of her baby when she was pregnant. This is why she didn't share any bump pictures while she was pregnant. After Stormi was born, Kylie was the proudest mom... She couldn't wait to show off Stormi to her fans. She posted pictures, because she was so excited to be a mom. Unfortunately, social media is a crazy place.
The insider continued, "Kylie is shocked and doesn't want her daughter's pictures to be a part of something negative. She might reconsider in the future, but for now, she won't post any more photos of Stormi's face."
MAN, SOME OF YOU GUYS RUIN EVERYTHING!
Fans first noticed that Jenner had cleansed her page of Stormi's pics on June 10, when the lip kit creator posted a makeup-free selfie to her Instagram page, which featured a slight peek of Stormi's forehead. Many people started to inquire about why Jenner seemed to have cropped the 4-month-old out of the photo, prompting Jenner to set the record straight.
When one Instagrammer commented, "she cUT HER BABY OUT," Jenner responded, "Yeah I cut my baby out. I'm not sharing photos of my girl right now."
She didn't go into detail about her decision to stop sharing photos of Stormi, but man... this new theory makes a lot of sense given past situations that have involved her.
For example, back in May, rumors started swirling that Ky's old bodyguard, Tim Chung, was Stormi's real father after many social media users said they'd noticed strong similarities between the two. The allegations got so bad that Chung even had to release a statement denying that he'd ever hooked up with Jenner. In an Instagram post shared on May 12, he wrote:
I am a very private person and would normally never answer to gossip and stories that are so ridiculous that they are laughable. Out of deep respect for Kylie, Travis, their daughter together and their families, I would like to set the record straight that my interactions with Kylie and her family have been limited in strictly a professional capacity only. There is no story here and I ask that the media no longer include me in any narrative that is incredibly disrespectful to their family.
Dear Internet, you really are cruel beyond measure some times.
Unfortunately, that wasn't the only time social media users had spread fallacies about Stormi and who her father is. On Feb. 6, the same day Jenner revealed the very first photo of her daughter, people started sharing mean messages about Stormi's skin color on Twitter, alleging there was no way Travis Scott could be her father due to her supposed "pale skin color."
Yeah, you know what: in hindsight, I really don't blame Jenner for her decision to pull Stormi's pics.
Whether or not she posts the pics again is up to her, but if she does decide to bring them back, I hope this is a lesson learned. Some of you guys have really gotta chill out. OK?