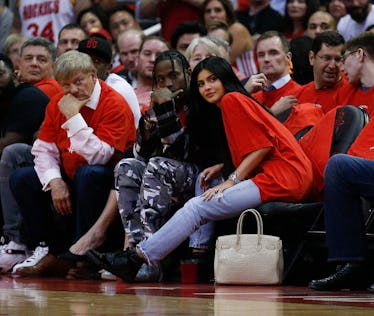 Fans Are Making This Comment About Kylie Jenner's Baby & It's Not OK
Bob Levey/Getty Images Sport/Getty Images
On Tuesday, Feb. 6, new mom Kylie Jenner took to Instagram to share the very first picture of her newborn daughter, named Stormi, according to her caption. It was the moment her fans had been waiting for since she'd announced Stormi's arrival on Feb. 4. After the image surfaced, some people gushed over Stormi's adorable outfit and her tiny little little fingers, while others guessed which parent she would look like. Unfortunately, some people on social media started sharing mean tweets about Stormi Jenner's skin color also, and they're seriously messed up.
In the beauty mogul's Instagram post, Stormi is dressed in a baby pink outfit with just the bottom half of her face visible, her cheeks colored red like a typical newborn, IMO. Her tiny fingers are wrapped around Jenner's powder pink-colored nail, creating such a sweet and heartfelt moment in the digital world. But not everyone felt that way: In a strange plot twist, many were upset by the photo and started to call out Jenner over Stormi's supposed "pale skin color," alleging that there was "no way" Travis Scott could be her father and alluding to tons of other hurtful fallacies.
And it's worth pointing out that Stormi is 5 days old and has, quite literally, no clue what she "should" look like.
Some people swore there was no way Stormi could be a mixed-race child.
Two users boldly shared their thoughts on Scott even being Stormi's father.
But at least a few people seemed to have a clue.
Well said, @miss_khamis. Well said.
Just to set the record straight here, it's perfectly normal for a newborn to be pale, regardless of the baby's racial background. As Stanford Children's Health explains, newborns' skin color changes a lot in the early days, even going to colors like blue, red, and yellow. According to What To Expect, it can take up to six months for a baby's skin tone to fully develop, while BabyCenter says it generally takes two to three weeks for a baby's skin to darken to a natural shade.
The criticism sucks considering Jenner kept her pregnancy a secret to enjoy her pregnancy privately and prepare, as she wrote on Instagram, for the "role of a lifetime."
It's pretty sad that the new parents are getting this kind of unwavering criticism when it's basically the reason Jenner kept her pregnancy out of the public's perview for this very reason. She finally confirmed the pregnancy on Feb. 4, three days after she'd given birth, on her Instagram. Part of her caption read,
I'm sorry for keeping you in the dark through all the assumptions. I understand you're used to me bringing you along on all my journeys. My pregnancy was one I chose not to do in front of the world. I knew for myself I needed to prepare for this role of a lifetime in the most positive, stress free, and healthy way I knew how. There was no gotcha moment, no big paid reveal I had planned. I knew my baby would feel every stress and every emotion so I chose to do it this way for my little life and our happiness.
The good news is that Jenner can at least fall back on her big sister, Kim Kardashian West, for consolation. Her sister, Khloé, is also due shortly.
In August 2017, Jenner's half-sister, Kim Kardashian West, who welcomed a newborn daughter herself just weeks before Jenner, opened up to Interview magazine about "raising a mixed black girl in the world." She said,
I'm very conscious of it. Kanye always has his family around and people who look like my daughter ― that's important to me. She's obsessed with her curly hair, and if she finds someone who has the same hair, she runs to them and is like, 'You have curly hair like me?' And we get to talk about it.
The reality star added, according to The Huffington Post,
We want to raise our kids to be really aware. I think that's all you can do. The more you talk about things and keep them out in the open, the more they won't be taboo. Kids are already so open. They say anything. So if you educate them, they feel like they have this knowledge and then they feel empowered.
With Kim K's first-hand knowledge on raising mixed-race kids, family members to figuratively and literally relate to, and Jenner's instinctual motherly tendencies, as seen on their show, there's no doubt that Stormi will have a great sense of who she is — regardless of how "pale" her skin may be to a few ill-informed Twitter users or any other unfair criticisms she might encounter in the future.