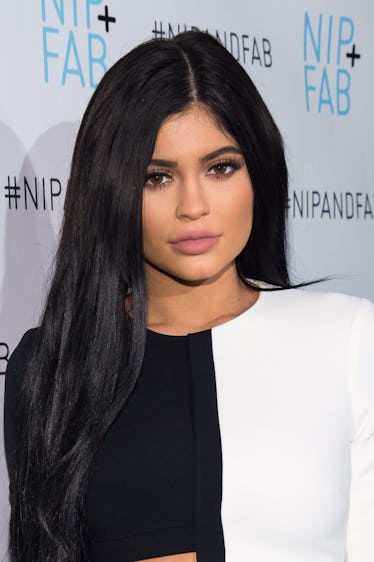 Kylie Jenner Just Shared The Most Adorable Video of Stormi Having Tummy Time & I Can't
Mike Windle/Getty Images Entertainment/Getty Images
Kylie Jenner is loving her life as a mom. The 20-year-old reality star and cosmetics mogul recently shared a video of herself and her little one having "Tummy Time" and it proves, without a doubt, that Jenner is really proud of being a mom. Actually, this video of Kylie Jenner and Stormi is the cutest thing you'll see this week.
The video was posted to Jenner's Snapchat on Monday, July 22, and shows little Stormi laying on her belly as she kicks and coos her way into everyone's hearts. Jenner is partially visible in the video as she watches Stormi do her thing.
From the looks of it, Stormi, who is just five months old, seems ready to start crawling. According to Parents.com, babies don't usually begin crawling until they're between seven and 12 months old. That's just around the corner for Stormi, so maybe she's gearing up to get moving.
This new video of Stormi comes just a month after Jenner revealed she wouldn't be showing her daughter's face on social media anymore. In the video, Stormi's profile is visible, but you can't see her face head-on. So, she's at least partially obscured.
Here's a look at the video Jenner shared on Snapchat (it was reposted on Instagram by @kyliesnapchat):
In the video, you can see Stormi's top knot hairdo which was also visible in a photo Jenner shared on July 18.
How cute is she! And she's all dressed up in a Burberry jumper, too!
Stormi definitely looks like she's growing up fast from both the tummy time video and the photo above. Time really flies and I'm sure Jenner is feeling it, too!
Unfortunately for Jenner fans, they'll only get glimpses of Stormi as she gets older. For now, at least. Back in June 2018, a source told People that Jenner is hesitant to share photos of Stormi's face because of some negative comments from followers on social media:
She couldn't wait to show off Stormi to her fans. She posted pictures, because she was so excited to be a mom. Unfortunately, social media is a crazy place. People have been making nasty comments … Kylie is shocked and doesn't want her daughter's pictures to be a part of something negative. She might reconsider in the future, but for now, she won't post any more photos of Stormi's face.
It's completely understandable that Jenner would want to protect her daughter from any negative attention or media coverage. Actually, It's a really smart and mature thing to do!
In the weeks since deciding to obscure Stormi's face, Jenner has shared a handful of photos with tiny glimpses of her baby.
Like this one where Jenner cropped Stormi's face out of the frame:
And this sweet photo of Jenner cradling little Stormi:
Hopefully, fans will eventually get a glimpse of Stormi's face when she gets a little older and Jenner becomes more comfortable with sharing photos of her. One thing's for sure, though, Jenner's doing a great job as a first-time mom!