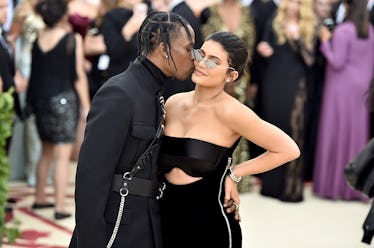 Kylie Jenner & Travis Scott Shared A Snuggly Snapchat Together & It's Too Cute
Theo Wargo/Getty Images Entertainment/Getty Images
Kylie Jenner and Travis Scott aren't a couple that likes to put their relationship on display too often. So when either one of these two lovebirds are spotted together or post anything on social media where they show each other love, the world tends to freak out over it. Kylie Jenner and Travis Scott's Snapchat together is a rare moment where they go full-on PDA and share their love with the rest of the world — and I can't get enough of it.
On July 21, Scott posted an adorable selfie of himself and his lady to his Snapchat story. The photo has since been deleted, but you better believe that the Kardashian-Jenner stans managed to screenshot the snap before it disappeared. In the black-and-shite shot, Jenner is pictured wrapping her arms around Scott and seemingly giving him a kiss on the head. The caption reads "First Ferdi," and according to Urban Dictionary, "ferdi" basically translates to "cute boy."
Does that mean that Scott is implying that he's the first cute boy that Jenner's been with in her life? Did Jenner write the caption herself, even though Scott posted the snap to his account? Do with that caption what you will, but there's no denying that this photo is just straight up adorable.
Jenner and Scott usually keep a low profile in terms of how often they share details about their relationship with the rest of the world. The first time they made their red carpet debut as a couple was at the 2018 Met Gala in May, which was roughly three months after the birth of their daughter Stormi in February. Their lack of public outings could have been in large part due to the extremely low profile that Jenner kept during her pregnancy. Fans speculated for months about Jenner's pregnancy, but it wasn't until after Stormi's birthday on Feb. 1, 2018 that the beauty mogul confirmed that she was, in fact, carrying her daughter.
On Feb. 4, Jenner posted a message to her fans via her Instagram account explaining why she had kept everyone in the dark about her pregnancy. Jenner wrote,
My pregnancy was one I chose not to do in front of the world. I knew for myself I needed to prepare for this role of a lifetime in the most positive, stress free, and healthy way I knew how. There was no gotcha moment, no big paid reveal I had planned. I knew my baby would feel every stress and every emotion so I chose to do it this way for my little life and our happiness.
Now that Stormi is about five months old and Jenner's stepped back into the spotlight, I'm sure that we'll definitely get more glimpses into her life. Both she and Scott seem super in love and happy with the little family that they've created, and you'd have to be completely heartless to not want to see more of that love. Maybe even more kids are in the cards for this adorable couple — who knows? But until then, I'll be eating up all of the adorable PDA posts that either of these two share with their fans.