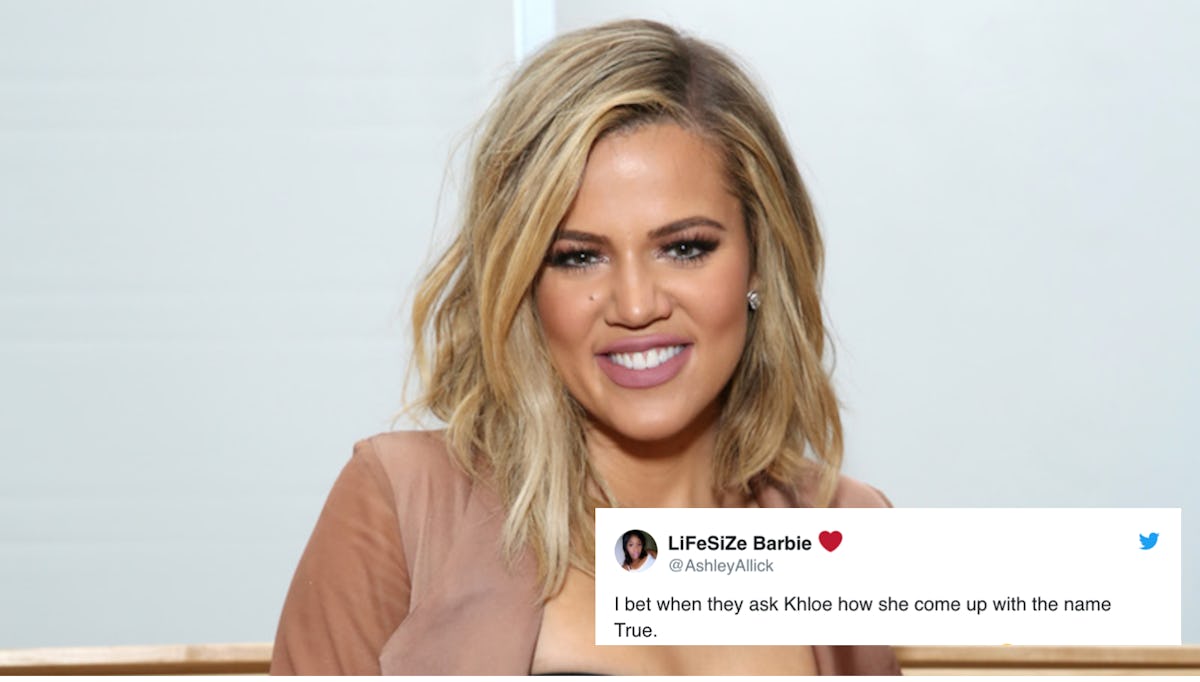 There's A New Theory On Why Khloé Kardashian Named Her Daughter True & It's Mind-Blowing
Cindy Ord/Getty Images Entertainment/Getty Images
Waiting to learn what Khloé Kardashian named her daughter was like waiting to learn if a meteor was going to strike earth. I don't know if that's the best analogy, but what I'm getting at is it was IMPORTANT TO ME and also A REALLY BIG DEAL. When fans finally heard Kardashian and boyfriend Tristan Thompson went with the name "True," it was full-on hysteria. What does it mean?! Do we like it? Do we hate it? Give us the deets, Khloé! Obviously, a few fan theories have popped up, and a new one is rising to the top. This new theory on why Khloé Kardashian named her daughter True is my current favorite, whether it makes sense or not.
Alright, walk with me. There we all were on April 10, minding our own business, eating string cheese, when BAM! News struck from The Daily Mail that Tristan Thompson reportedly cheated on Khloé Kardashian almost at the exact same time the public learned Kardashian was reportedly going into labor. Elite Daily reached out to Kardashian and Thompson's teams regarding the reports but did not hear back by the time of publication.
Originally, fans thought the decision to name their daughter "True" might have been a knee-jerk reaction to all of the rumors circulating their relationship. But then, the plot thickened when Kris Jenner announced True was actually a family name. Jenner posted a picture of tons of pink balloons with the caption:
I'm so excited to welcome my precious little granddaughter True!!! FUN FACT... my Grandfather's name on my Dad's side was True Otis Houghton....my Dad's name was Robert True Houghton...so i am so excited Khloe named her daughter True!!! #lovebug#familytradition#family@true
This brings us to today, April 18, and fans have flipped the script once again. Ready for the new theory?
They think Kardashian named her baby "True" because becoming a mom is her dream... come... true.
I know. It's a stretch, but also, not really.
Fans have watched Kardashian and her journey to motherhood over the years with their fingers crossed. They've seen her pop in and out of fertility clinics, struggle to commit to a baby with ex-husband Lamar Odom, and be the world's best aunt to all of her nieces and nephews. Many fans agree — she is meant to be a mom. They just didn't know when, how, where, and with whom it would happen.
When Kardashian finally announced she and Thompson were expecting, she specifically mentioned in her Instagram caption that having a baby was her "greatest dream realized." Fans think she couldn't name her daughter "Dream," because Rob Kardashian already took that name with his wee-one, so she went with "True" because her daughter is a dream come TRUE.
Wilder things have happened.
While I'm certain Kardashian will eventually explain to someone somewhere her reasoning behind the sweet name, for now, she's playing a little coy. The way she and Thompson revealed their daughter's name was actually pretty straightforward and with minimal pomp and circumstance. Kardashian simply posted a picture (also of pink balloons) on her Instagram with the caption:
Our little girl, True Thompson, has completely stolen our hearts and we are overwhelmed with LOVE. Such a blessing to welcome this angel into the family! Mommy and Daddy loooooove you True!
Please look at that fuzzy chair. Please look at that marble ledge. Please look at that bowl of moss. Where would one get a bowl of moss?
That is one lucky kiddo.
Listen, whatever you're reasoning is for naming your sweet one True, Khloé, I am here for it. And that's the truth. (Ugh, sorry.)
Check out the entire Gen Why series and other videos on Facebook and the Bustle app across Apple TV, Roku, and Amazon Fire TV.