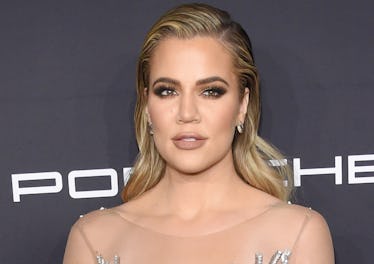 The Meaning Behind Khloe Kardashian's Daughter's Name Will Make You So Emotional
Khloé Kardashian and Tristan Thompson just announced the name of their daughter, and fans are loving it. The meaning of Khloé Kardashian's baby's name is so precious and it's exactly what you'd expect from Kardashian. They named their baby girl True Thompson, and announced it on Instagram with a photo of a room decked out in floor-to-ceiling pink, accompanied by a caption that read, "Our little girl, True Thompson, has completely stolen our hearts and we are overwhelmed with LOVE. Such a blessing to welcome this angel into the family! Mommy and Daddy loooooove you True!"
UPDATE: Kris Jenner revealed that Khloe Kardashian's daughter's name actually has a deeper meaning for their family. She posted a picture of pink balloons to Instagram with a caption that read, "I'm so excited to welcome my precious little granddaughter True!!! FUN FACT... my Grandfather's name on my Dad's side was True Otis Houghton....my real Dad's name was Robert True Houghton...so i am so excited Khloe named her daughter True!!! #lovebug#familytradition#family @true."
EARLIER: Fans commented back with an influx of love for the name and for Kardashian. Now that we know the baby's name, what does it mean? The meaning of the name True, according to BehindTheName.com, stands for "conforming to the state of reality or fact; factually correct; loyal, faithful; genuine; legitimate; accurate."
Although most fans are happy for the new parents, many have been quick to point out the irony of the baby's name, considering Thompson was seen being everything but "true" when TMZ released surveillance footage of him cheating on Kardashian at a hookah lounge outside Washington D.C. in October. Pictures of Tristan bringing a mysterious woman back to his hotel room as recent as the weekend of April 7 also surfaced, just days before Kardashian gave birth to baby True.
The news of the baby's arrival came on April 12, much to the excitement of the reality star's fans. Kardashian die-hards were so happy to see Khloé Kardashian become a mother after years of dreaming of having her own family. Kardashian has always been public about her desire to have children, but she revealed in an episode of Keeping Up With The Kardashians that she didn't think Lamar Odom was the right person to start her family with, so she "fake tried" to get pregnant with him. She revealed on her app while she was pregnant, however, that she knew Tristan Thompson was "the one" early on in their relationship and working on giving their relationship a strong foundation made her confident she wanted to have kids with him. She said on her app,
My answer for this probably doesn't apply to everybody, but I knew Tristan was the one very quickly—I have never felt so comfortable or so safe with someone. Because of that, I took it very slowly and was cautious about how I went about 'us.' I made sure we had very in-depth conversations. I wanted to make sure that those conversations were backed up by actions.
She added that they really worked on their relationship to make sure it would last, saying,
Tristan was so forthcoming with his life, as I was with mine. It was really reassuring to feel that someone had the same belief systems as I did. We spoke about religion, children and our families. I think all of those things are important to truly know the ins and outs of someone. It's really easy to fall in love with someone during a honeymoon phase when you haven't yet discussed the logistics of life. But you have to talk about the real things if you want a real/long-lasting relationship.
She captioned the post,
My greatest dream realized! We are having a baby! I had been waiting and wondering but God had a plan all along. He knew what He was doing. I simply had to trust in Him and be patient. I still at times can't believe that our love created life! Tristan, thank you for loving me the way that you do! Thank you for treating me like a Queen! Thank you for making me feel beautiful at all stages! Tristan, most of all, Thank you for making me a MOMMY!!! You have made this experience even more magical than I could have envisioned! I will never forget how wonderful you've been to me during this time! Thank you for making me so happy my love! Thank you to everyone for the love and positive vibes! I know we've been keeping this quite but we wanted to enjoy this between our family and close friends as long as we could privately. To enjoy our first precious moments just us Thank you all for understanding. I am so thankful, excited, nervous, eager, overjoyed and scared all in one! But it's the best bundle of feelings I've ever felt in my life!
Welcome to the world, baby True!