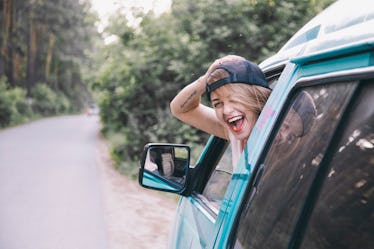 Spring Break Is Coming & This Road Trip Playlist Of Your Fave Movie Songs Is Lit
Danil Nevsky/Stocksy
Did somebody say spring break? Break out your bathing suits and beach towels, because you finally have a week during the semester dedicated to soaking up the sun. You've been working hard, and spending way too many hours at the library. The road trip and tropical vacations have been booked for months now, and you even picked out a new pair of sunglasses that will look so cute in your selfies. You might have even started to get your suitcase together, and I hope you don't forget to pack a playlist of movie songs for spring break along with those sandals.
No matter where your wanderlust is taking you this week, you'll want to stream a lot of good vibes during your much-needed vacation. Our favorite soundtracks come with some of the sweetest songs for spring break, and let's be honest, no road trip is complete without some tunes.
Truth is, life is most amazing when it feels like we're living in a movie. The days when we have the windows rolled down and are playing summer hits from the '90s truly make us feel like there could be cameras just on the other side of the sun. We cue up "She Will Be Loved" by Maroon 5, and sing like we're in Will's truck from The Last Song, or jam out to "Life Is A Highway" by Rascal Flatts, because hitting the road requires a classic from Cars.
If you're in serious need of not just the sun, but also some beats for your spring break, here's a playlist of movie songs that'll be perfect for you and your pals.