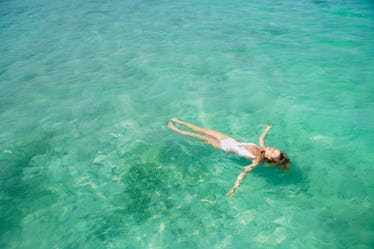 7 Best Islands To Hop To If Your Instagram Needs Some Sunshine Instead Of Snow
Trinette Reed/Stocksy
We're all in some serious need of summer. Sure, snow days and snuggling up with hot cocoa can have some cozy perks, but where's the sunshine at?! It's like winter doesn't have our best interests in mind, and we're just craving a whole lot of vitamin D and vitamin sea. Our wanderlust is worst in the winter because we tend to feel so stuck. Between school or work, our schedules, and the looming task of shoveling snow, we really just can't seem to get away. So, if you're looking for a tropical escape from the eskimo weather, these are the best islands to visit in winter that will make both your Instagram and smile a little bit brighter.
You're so tired of the mug shots. No, you haven't done any jail time. We're talking the cliché pic of your cup of coffee between your hands that are inevitably in a pair of the fuzziest mittens you could find. It seems that every one of your followers has done something similar — blowing snow like it's confetti or bundling up in blanket scarves and boots for the 'Gram (so fashion blogger-esque of them). You've already posted a summer throwback pic from that day at the beach in your favorite swimsuit... what you would give to be that wild and free again.
Don't let yourself sit around and sulk over the snow. Seas the day! Winter and your Instagram feed don't have to be so dull, if only you take a few days and dare to do something different. The world is your oyster, even in the most sluggish times of the year. The sunshine and social media possibilities of these islands will give your life a little lift.