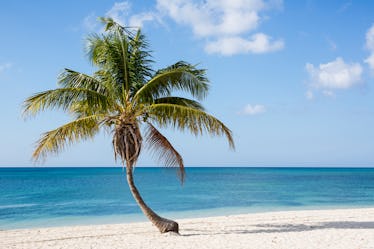 You Can Travel To The Caribbean For $89, So Say Goodbye To Freezing Weather
We're about to embark on a real-life Frozen adventure thanks to the impending bomb cyclone, so an escape to tropical climates sounds pretty enticing. Fortunately, you can make that fantasy a reality. JetBlue's "Big Winter Sale" has $89 tickets to the Caribbean, so it might be time to swap that NorthFace puffer jacket for your bikini (no arguments there).
In order to avoid the January weather meteorologists have been warning us about, it's imperative to act fast. JetBlue's flash sale will last until Thursday, Jan. 4 at midnight local time or ET, depending on whatever is earlier in your time zone, Travel + Leisure reports. The #BombCyclone has been trending all morning, so this is no joke. The time to book is now.
While you start planning your getaway, you can breathe a sigh of relief knowing that the airline's sale will keep your wallet happy with its deals on one-way flights. Let's break down some of the lovely-looking offers, shall we?
Orlando (MCO) to Nassau, Bahamas is $89
Orlando (MCO) to Havana, Cuba is $89
New York (JFK) to Nassau, Bahamas is $114
New York (JFK) to Bermuda is $124
New York (JFK) to Providenciales, Turks and Caicos is $134
New York (JFK) to St. Maarten is $164
Boston (BOS) to Bermuda is $94
Fort Lauderdale (FLL) to Nassau, Bahamas is $64
Keep in mind these are just a few ticket options. For more deals on JetBlue's "Big Winter Sale," click here.
If you can't quite escape just yet, don't worry. Travel dates range from Jan. 10 to April 25, so there is plenty of time to book a trip out of town. Chances are, the cold is here to stay for quite some time — so there will be plenty of opportunities to long for a little sun, sand, and surf.
The good news is that if your JetBlue flight is all booked, you have other ways to save this month. Sites such as Skyscanner and Hipmunk analyzed research to find that January is the best time of year for adventurers to get an affordable plane ticket, according to Travel + Leisure. Time flies, and yes, believe it or not, so do inexpensive flights — but you cannot procrastinate with your travel homework.
The first two weeks of the month are particularly important, Skyscanner claims, and its findings suggest that U.S. domestic flights are 16 percent cheaper and international flights are potentially up to 36 percent cheaper than the national average. Hipmunk states in its annual travel planning guide that not only is the first month of the year the "most cost effective" time to book a ticket, but it's also the least-traveled month of the year for residents in the U.S. Everyone is home from the holidays, so perhaps this is the best time to cross a few destinations off your list without the hassle of too many tourists.
Now that you know the beginning-of-the-year secret, there are still a few tips and tricks needed to not only help you score the vacation of your dreams, but to also stress less in terms of finances and accommodations.
"Flying mid-week and in the off-season will offer best value for money overall," CheapAir.com's CEO Jeff Klee tells Elite Daily. "To keep costs down, the best advice is always to avoid high season, wherever you travel. For example, shoulder season in Europe (March to April and September to October) will often give you deep discounts on flights and accommodation, and can be a better time to have a relaxing vacation. You should also keep in mind local festivals and holidays that might impact overall cost, limits on business hours, and numbers of tourists you can expect to encounter."
Now you've got the inside scoop, the list of departing flights, and your luggage that's waiting to be filled. What else are you waiting for?
Check out the entire Gen Why series and other videos on Facebook and the Bustle app across Apple TV, Roku, and Amazon Fire TV.