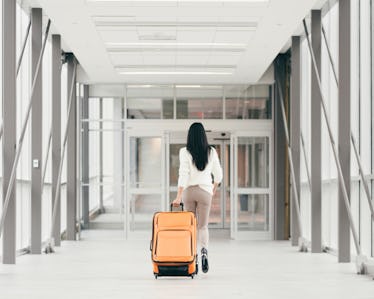 Booking Your Flights This Month Will Save You A Lot Of Money, So Start Planning
Time flies, and believe it or not, so do inexpensive flights — but you're going to have to act fast if you want to score a deal. The cheapest month to buy a plane ticket in 2018 is already upon us, folks, so your might want to consider dusting off your passport and finding your luggage. The next chapter of your travel journal is begging to be written.
Sites such as Skyscanner and Hipmunk analyzed research to find that January is the best time of year for adventurers to get an affordable plane ticket, according to Travel & Leisure. The first two weeks of the month are particularly important, Skyscanner claims, and its findings suggest that U.S. domestic flights are 16 percent cheaper and international flights are potentially up to 36 percent cheaper than the national average. Now, where was that carry-on bag?
Look at it this way: You just made a list of promises for the year ahead, so the timing works out perfectly. You can check the "travel more" goal right off your list. The site further claims in a press release,
Given the predicted spike in prices shortly after January, this is the ideal time for travelers to search and book cheap flights to most destinations, and finally choose a New Year's resolution they'll be more inclined to keep.
Hipmunk states in its annual travel planning guide that not only is the first month of the year the "most cost effective" time to book a ticket, but it's also the least-traveled month of the year for residents in the U.S. If you didn't get a chance to head out of town for the holidays, use your rollover vacation days to book a holiday ASAP. If — like yours truly — you find yourself in New York, anywhere is better than the Big Apple's current 16 degrees.
Travel experts are not only providing people with details about when to book a flight — they're offering their advice about where to go in 2018. A great vacation doesn't have to cost an arm and a leg, and that's exactly what millennials like to hear. CheapAir.com did quite a bit of research and discovered the top 10 cheapest places to travel in 2018, so start doing your homework. The site's list — based on inexpensive airfare from major airports, excursion costs, budgets accommodations, and "overall destination caché" — includes:
Montenegro, Croatia
Spain
San Francisco, California
Thailand
Las Vegas, Nevada
India
Namibia, Africa
Washington, D.C.
New Zealand
Nicaragua
CheapAir.com's CEO Jeff Klee tells Elite Daily that there is a lot to consider before planning a trip. Much like Skyscanner and Hipmunk, he believes timing is equally as important.
"Flying mid-week and in the off-season will offer best value for money overall," he tells Elite Daily. "To keep costs down, the best advice is always to avoid high season, wherever you travel. For example, shoulder season in Europe (March to April and September to October) will often give you deep discounts on flights and accommodation, and can be a better time to have a relaxing vacation. You should also keep in mind local festivals and holidays that might impact overall cost, limits on business hours, and numbers of tourists you can expect to encounter."
Now that I'm officially pumped for these deals — and the fact that my 2018 horoscope said I'm in for overseas adventures — I'm just about ready to head to JFK and hop on a plane headed anywhere warm and sunny. Here's to a great (and fairly cheap) year of travel ahead.
Check out the entire Gen Why series and other videos on Facebook and the Bustle app across Apple TV, Roku, and Amazon Fire TV.