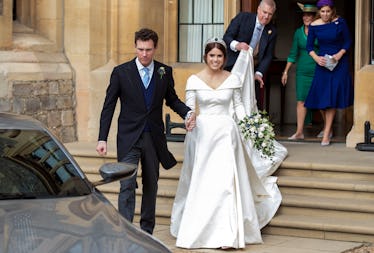 You Have To See Princess Eugenie's Gorgeous Second Wedding Dress From The Big Day
WPA Pool/Getty Images Entertainment/Getty Images
You probably already heard that British royal Princess Eugenie of York got married on Friday, Oct. 12, 2018. As you'd imagine, her wedding was quite the event, and it was totally fit for a princess. If you watched the wedding live, you got the chance to witness the beautiful ceremony as well as the princess's gorgeous wedding dress. And even though the first wedding dress was completely breathtaking, this photo of Princess Eugenie's second wedding dress shows it's just as beautiful as the first.
As you would probably assume, Princess Eugenie had not one, but two wedding dresses. Her first dress, which she wore during the ceremony at St. George's Chapel, featured a fitted bodice along with a full-pleated skirt. Designed by British-based Peter Pilotto and Christopher De Vos, the neckline folded gently around the shoulders, which created a low back, as well as an off-the-shoulder look. Trust me — it was gorgeous.
Princess Eugenie's second wedding dress, however, definitely gives the first a run for its money. It was an absolutely amazing off-white silk gown, which was designed by American designer Zac Posen, per People. Eugenie wore her second gown to her private evening reception, which was held at Windsor Great Park's Royal Lodge. She was literally a vision in white, and if you don't believe me, just take a look at the photo below. It was shared by the official Royal Family Twitter account, and trust me when I say you definitely won't be disappointed in her ~lewk~.
In the words of Queer Eye's Jonathan Van Ness, "Can you believe?" Honestly though, I can't believe. Eugenie's second dress is so, so beautiful. The top is perfectly form-fitting, while the bottom is flowing and gorgeous. I don't know about you, but her second dress might honestly be my favorite... just saying.
Apparently, it's not unusual for royals to wear two wedding dresses. In fact, Meghan Markle also opted for a second wedding dress during her wedding with Prince Harry. It was a beyond-stunning Stella McCartney gown made of silk crepe. It sported a high halter neckline, and she wore it with Aquazurra satin shoes with nude mesh, which had adorable baby blue soles. It was absolutely perfect for their wedding reception at Frogmore House, if you ask me.
While Eugenie's wedding dresses were relatively traditional, there were several aspects of the wedding that actually broke royal tradition. While most royals have a formal same-day reception, the princess decided on also hosting an informal day party. They also served tequila instead of wine, as her husband, Jack Brooksbank, is the European Brand Manager of tequila brand Casamigos. Additionally, her wedding wasn't a bank holiday, her sister, Princess Beatrice, was the maid of honor, it was broadcast on ITV instead of BBC, and, last but not least, the cake wasn't fruity (IMO, it was better — red velvet!). And while Eugenie's wedding broke several "classic" royal rules, her wedding was gorgeous nonetheless.
Don't get me wrong — Princess Eugenie's first wedding dress was one for the books. However, her second dress really stole the show. It was fun, flowy, and far different from her first dress. Regardless of your favorite, Eugenie looked completely stunning, and her dresses definitely stole the show.